Daisy Villa Apartments is a location in Silent Hill 3 and is the home of the game's protagonist, Heather Mason. Heather and her father Harry moved into the apartments some undisclosed time ago, but it is suggested that this wasn't their initial tenement.
Silent Hill 3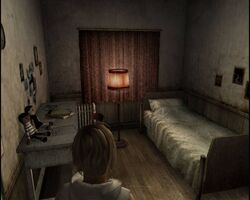 The time the player spends in the apartments is short-lived, as Heather only seeks to return to her home, room 102. The only areas explored within the building include the ground floor, where the entrance and Heather's home are located, and the rooftop.
After unlocking the door with her house key, a series of events unfold, and Heather is left to pursue Claudia Wolf and travel to Silent Hill with detective Douglas Cartland. Though the area is only explored for a short time, the events that occur, including a boss battle with the Missionary, contribute a good portion to the plot.
UFO Ending
Main article: UFO Ending#Silent Hill 3
If the player manages to kill 30 or more monsters with the Sexy/Heather Beam before reaching the Daisy Villa Apartments, the game's UFO ending will be unlocked. The ending plays automatically as soon as Heather opens her door with her apartment key.
Trivia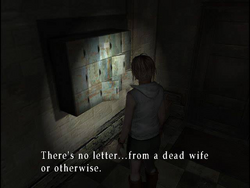 If there is a Silent Hill 2 save on the memory card being used, examining the apartment mailboxes will have Heather reference Silent Hill 2 in a comment, "There's no letter... from a dead wife or otherwise. Well, I don't have one of those anyway."
Harry's apartment contains a hand-made art-piece of Jodie Mason, holding hands with his two adopted daughters, which is presumably a dedication to his lost wife and child, with the addition of Heather.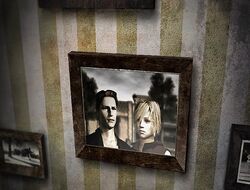 An image in the game's files shows Heather's apartment wall with a photo of Harry and herself. The photo of Harry is merely a render of him from the first game composited into one of Heather. Because of this, not only does Harry not appear to have aged in the photo, but the two of them are also of the same height. It was most likely removed from the final version because of these inaccuracies. The text attached to the picture in the game's source code reads: "It's of dad and me at Christmas. Looking at this makes me want to try even harder. I have to... I can't lose. They killed my dad and they have to pay for it."
There are two "Room 102"s in the building.
Gallery
Community content is available under
CC-BY-SA
unless otherwise noted.