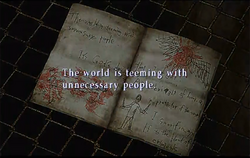 The Day Room Notebook is a memo found by Heather Mason in Silent Hill 3. It is located on the first floor of the Otherworld Brookhaven Hospital inside of the day-room.
The notebook likely belongs to Leonard Wolf and features doodles of him holding a dagger in both hands, a winged sun in the sky and dead people covered in blood all around him. It is also possible the notebook belongs to Claudia Wolf, perhaps written as a child. However, the writer describes themselves as a "protector of the seal", and Leonard was the one who possessed it, while Claudia believed it to be "a piece of junk" and thought her father was foolish for keeping it, thus the notebook was most likely written by Leonard. The author's sex and gender is unknown, but Heather assumes the author is male.
After reading it, Heather remarks:
"Who wrote this?
Some twisted individual, eh?
I see this and wanna ask him,
'So you think you're one of the necessary ones?'"
Transcript
"The world is teeming with
unnecessary people.
It's God's decision that I fight.
As a knight of honor, as a protector
of the seal, I sacrifice myself to the
blood of criminals."
Trivia
Community content is available under
CC-BY-SA
unless otherwise noted.