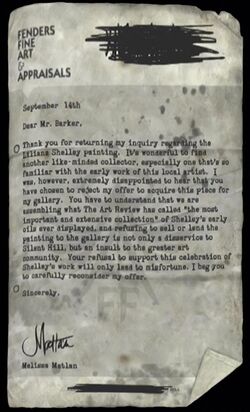 Dear Mr. Barker is a letter in Silent Hill: Downpour. It's located in Fenders Fine Art and Appraisals, and is one of two letters written by Melissa Matlan requesting the works of Lilian Shelley for display in the art gallery. Lilian Shelley is responsible for six works that the player can collect in the game for The Art Collector sidequest.
Transcript
September 14th
Dear Mr. Barker,
Thank you for returning my inquiry regarding the Lilian Shelley painting. It's wonderful to find another like-minded collector, especially one that's so familiar with the early work of this local artist. I was, however, extremely disappointed to hear that you have chosen to reject my offer to acquire this piece for my gallery. You have to understand that we are assembling what The Art Review has called "the most important and extensive collection" of Shelley's early oils ever displayed, and refusing to sell or land the painting to the gallery is not only a disservice to Silent Hill, but an insult to the greater art community. Your refusal to support this celebration of Shelley's work will only lead to misfortune. I beg you to carefully reconsider my offer.
Sincerely,
Melissa Matlan
See also
Community content is available under
CC-BY-SA
unless otherwise noted.