Deborah at the premiere of Silent Hill
Silent Hill films
Silent Hill
Silent Hill: Revelation
Character
Dahlia Gillespie
Deborah Kara Unger is a Canadian actress, best known for The Game, White Noise, and Silent Hill.
Background
Deborah's first role was in an Australian TV show called Bangkok Hilton, in which she appeared opposite Nicole Kidman. She then went on to appear in Crash and The Game, for which she gained critical acclaim. Deborah was nominated for a Genie Award in 2002 for the film Between Strangers. In 2005, Deborah appeared in Silent Hill. She was then recast as the same character in Silent Hill: Revelation.
Silent Hill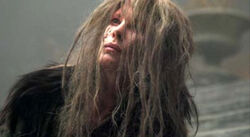 Previously, Deborah had a close friendship with Silent Hill director Christophe Gans, whom she considered a mentor. Gans felt Deborah was perfect for the role of embattled mother Dahlia Gillespie, who appears at two different ages in the film. When he first approached Deborah for the role, he told her not to slap him, as he was sure she would be angered at being asked to portray a ragged old woman. Instead, Deborah was delighted by the character and quickly accepted the role.
Gallery