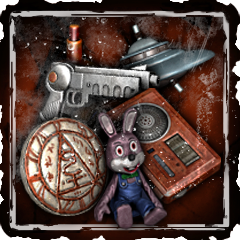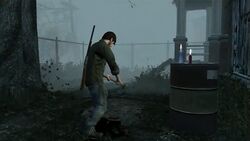 Digging Up the Past is a sidequest in Silent Hill: Downpour. The quest only becomes available after completing the game for the first time. Completing the quest will unlock the "Surprise" ending, Downpour's equivalent of a UFO Ending. Once the quest is completed, no other endings can be achieved, regardless of choices made while playing.
Quest solution
To complete the quest, locate seven barrels scattered across Silent Hill with burning pink and blue birthday candles on them, use a shovel to dig in front of them, and take the Silent Hill trinkets from the hole. After an artifact is removed from a location, its candles will extinguish.
Below is a list of all the locations of the artifacts:
The first site is in a yard north of Straub Street, in Hillside. Find a shovel in a shack in the downtown area in the southwestern corner.
The second site is near where Hillside becomes Pearl Creek. A shovel can be found west of the Hillside subway, outside the Hillside Police Station.
The third site is in a park south of Cook Street in Pearl Creek. Find a shovel where Cook Street meets Lansdale.
The fourth up is inside Logan's Park, located at the border of Pearl Creek and Chastain Heights. A shovel can be found at the border into Pearl Creek.
The fifth site is in a small park located behind the Chastain Heights Cinema. Find a shovel in an alleyway northwest of the Chastain Heights subway.
The sixth site is in front of St. Maria's Monastery in Chastain Heights. Find a shovel at the entrance of Monroe Cemetery, just south of the Monastery.
The final site is in the Port District. Find the barrel in the yard of a southeast home. Then find a shovel near a truck on Ketchum Street.
After collecting all seven artifacts, the quest will be completed.
Artifacts
Artifacts that are dug up can be found in the Extras Menu. Below is a list of the artifacts:
Aglaophotis

"What the hell is this stuff? Smells disgusting."

Radio

"What's going on with this radio?"

Alien Toy

"Do people really believe in this stuff?"

Hyper Blaster

"Fancy gun... Too bad it doesn't work."

UFO

"Abduction, huh? That's one way out of here, I guess..."

Circle Emblem

"This thing creeps me out."

Robbie

"Cute doll. He seems to be showing up a lot lately."
Trivia
Completing the sidequest unlocks the achievement/trophy "Useless Trinkets."
The objects recovered in the dig sites are all references to the earlier games in the series. Ex.: the trinket "Laser Pistol" is modeled after the Laser Pistol from Silent Hill: Homecoming.
Gallery
Community content is available under
CC-BY-SA
unless otherwise noted.