This article is for Diner 52 in Silent Hill: Shattered Memories. For the cafe from the original Silent Hill, see Cafe 5to2.
Diner 52 is a restaurant that Harry Mason can enter in Silent Hill: Shattered Memories. The restaurant is located in the northwest area of Silent Hill, near the right end of Bachman Road.
The diner is also one of the areas that can become inaccessible depending on the player's actions. Alternatively, the Good Ol' Days bar across the street becomes open should the diner be closed, and a similar scene occurs where Harry discovers his phone and home address.
A memento can also be found in a cabinet behind the counter, and the sign near the front door changes dependent upon the player's actions up to this point.
Silent Hill: Shattered Memories
After entering the diner, Harry Mason meets a local police officer named Cybil Bennett. While explaining his situation, Harry discovers that he is carrying a cell phone by receiving a mysterious call. Cybil also instructs Harry to return to his home on Levin Street, as indicated on Harry's ID card, to see if his missing daughter is there.
Variations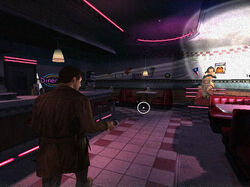 The café has a "sexy" version, in which the player meets the version of Cybil in a blue shirt with cleavage showing, and the café will be more dimly lit and have red leather seats. Additionally, the cardboard cutout holding a menu near the door will be a scantily-clad woman instead of a man with a microphone.
Gallery
Community content is available under
CC-BY-SA
unless otherwise noted.