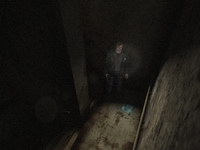 Direckter's Key is a message found on the floor of a stairway between the second and the third floor in the Otherworld Brookhaven Hospital in Silent Hill 2. This stairwell is accessed after completing the Lady of the Door puzzle. The memo gives a clue to the location of the key needed in order to access the Silent Hill Historical Society, as the "preying woman" that is mentioned in the note is the Jennifer Carroll statue that is found in Rosewater Park.
The spelling, grammar and punctuation is very poor in the brief note, much like some of the other memos found in the hospital. Because of this, they were all most likely written by the same person.
Transcript
"I took the direckters's key – the

one to the mooseum. I hid it

behind the preying woman when

I went out for the day trip. I

picked it up but I did not steal

it. I'm not a krimminal."
Community content is available under
CC-BY-SA
unless otherwise noted.