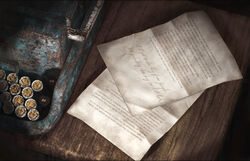 The Doctor's Journal is found in the document room on the first floor of Brookhaven Hospital in Silent Hill 2. The journal makes reference to the Otherworld from an outsider's perspective. For the doctor, the Otherworld is nothing more than an illness which has the potential to reside in all people. The doctor is able to view the patient while he is in the Otherworld, but the doctor is not experiencing it themselves. This is similar to how Laura appears to view the world around her: she is able to see James Sunderland, but is oblivious to the horrors that James is experiencing.
After reading the journal, the player will receive a key which is one of two needed in order to help complete the Louise Puzzle in Room S14 of the hospital.
Transcript
"The potential for this illness

exists in all people and, under

the right circumstances, any

man or woman would be driven,

like him, to the 'other side'.


The 'other side' perhaps may

not be the best way to phrase it.

After all, there is no wall between

here and there. It lies on the

borders where reality and unreality

intersect. It is a place both close

and distant.


Some say it isn't even an illness.

I cannot agree with them. I'm a

doctor, not a philosopher or even

a psychiatrist.


But sometimes I have to ask

myself this question. It's true

that to us his imaginings are

nothing but the inventions of

a busy mind. But to him, there

simply is no other reality.

Furthermore he is happy there.


So why, I ask myself, why in the

name of healing him must we drag

him painfully into the world of our

own reality?


[Something else is written by hand.]


I got the key from Joseph.

It's probably the key to that box."
Community content is available under
CC-BY-SA
unless otherwise noted.