Description
"Found inside a dog house. No idea where to use it"
Purpose
Unlocks Dog Ending
Location
Dog House, West South Vale
Appearances
Silent Hill 2
The Dog Key is a secret key located inside of a dog house directly west of Rosewater Park in Silent Hill 2. It is in the shape of a bone and can only be found after receiving the three regular endings (In Water, Leave and Maria) to the game or previously receiving the "Rebirth" ending.
When using this key on the observation room inside the Lakeview Hotel, the hidden "Dog" ending plays. In it, James Sunderland confronts a dog named Mira, and accuses it of controlling the strange happenings in Silent Hill. The ending is meant to be an easter egg and more of a joke and should not be considered canon to the series or story.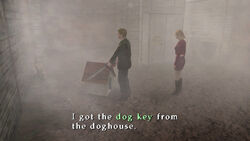 Community content is available under
CC-BY-SA
unless otherwise noted.