Dogs are a common theme for monsters and are often seen in the Silent Hill series.
While dogs themselves are sparse, there are many recurring monsters within the series bearing allusions to domesticated canines. Each entry of Silent Hill typically has a dog-like creature that is, for the most part, restricted to outside environments, particularly the streets. Dog houses are commonly seen on the streets, some which hide keys to houses, or even secrets.
Games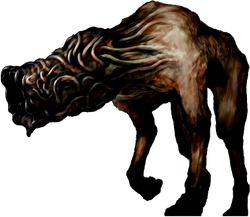 The first game of the series debuted the Groaner and its Otherworld counterpart, the Wormhead. These are dog-like monsters that are hairless, demonic dogs with rotten brown skin and a very large set of jaws. They are also morbidly thin, making them appear starving or even dead as a result. A common sight in outdoor areas, they are sensitive to sound and will react to a gunshot or the sound of Harry Mason running nearby. They only appear in outdoor areas where Harry is trying to move to a different building, and are easily avoided if precautions are taken. Harry first encounters the beasts when backtracking towards the alley he passed out in. He later meets the Wormheads after fainting in Green Lion Antiques, where they roam the Otherworld streets.
Several dog corpses are found in game, such as the flattened one at the beginning and the dog's head in the basketball court. They represent Alessa Gillespie's fear of dogs.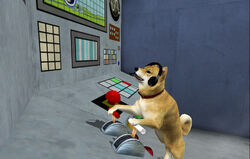 Silent Hill 2 was lacking in canine monsters due to the monsters seen in the game being created from James Sunderland's subconsciousness instead of Alessa Gillespie's.
Mira is a special Shiba Inu who is seen controlling the town in a secret room inside the Lakeview Hotel (which is unlocked with the Dog Key, found in a dog house beside Jacks Inn). Opening this secret room initiates a secret ending, the "Dog" ending. Mira doesn't like Eddie Dombrowski, as she growls angrily when Eddie appears in the credits.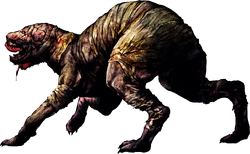 The Double Head is a canine monster that usually appears in groups of two or four and attacks Heather Mason upon sight. Their namesake feature refers to the fact that, in addition to the normal jawline, their heads split vertically down the middle, with their tongue often hanging lazily between the split halves. They are "bandaged" in bloody strips of flesh and appear to be horribly burned. According to The Making of Silent Hill 3, their split skulls are meant to evoke Cerberus and to indicate the player is entering a nightmarish world. They parallel the Groaners from the original Silent Hill and act similarly as well. They are first encountered in the Otherworld Shopping Center. They can be distracted by beef jerky. They can often be seen licking blood puddles and even feeding on corpses.
In Hilltop Center's ECHO Interiors and Floor Fashions, a pair of porcelain Dalmatian statues can be seen.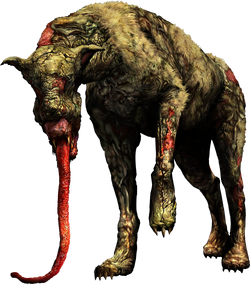 A common enemy, the Sniffer Dogs are dog-type creatures that have long, prehensile tongues that they use to drain the blood of their prey. They have dirty, leathery skin which appears to be decaying and, strangely, make snarling sounds which resemble that of a large feline rather than a canine. Their gums are prominent and hold large, dagger-like canines.
The gender and rank of the Sniffer Dog is betrayed by their coloration. Green-tinged Sniffer Dogs, thought of as males, are weaker and less threatening than the purple-tinged, thought of as female, variety. The male variety has visible eyes, ears and green tinted fur and flesh. Females are missing eyes and ears and are purple tinted, with longer, sharper claws. They only tend to attack Henry Townshend if he's too close, though the female variety is more aggressive and attacks on sight. The males can be distracted by carcasses and also tend to lie down, making them easier to hit.
Several non-existent dogs, possibly their ghosts, can be heard in Garland's. After reading a news article about the store shooting, Henry can hear the animals' cries as they are shot to death by Walter Sullivan.
The Porcelain Dalmatian duo from Silent Hill 3 reappear once more, though this time they are owned by an old couple in room 304 of the South Ashfield Heights.
Mira reappears in this game, in yet another UFO Ending. To be able to see her in this ending, the player must have the Room 502 Key. Dog-like monsters named Carrion also appear in Origins.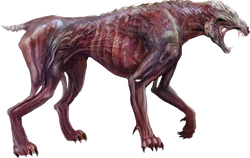 Ferals are skinless, heavily muscled canines with fresh blood dripping from their bodies, giving them a freshly skinned look. A strange feature of their heads is the fact that they have no ears. Alex Shepherd first encounters one in the Rose Heights Cemetery, after hearing it barking and growling in the distance. They are very fast and very difficult for Alex to escape.
Alex also once owned a dog named Shuki.
Silent Hill: The Arcade uses a modified version of the Double Head.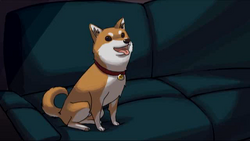 Harry Mason had bought his daughter a Basset Hound when she was a child, which she loved. Later, Harry accidentally hit and killed it with his car. There is graffiti that reads "Dead Dog Posse" in the playground.[1] The principal refers to his dog, Nicky, as his only true friend. A memento of a dog toy can be found in the Golden Leaf Warehouse.
Mira returns yet again in this game in the UFO ending. She appears, replacing Cheryl when she states "My mother was a bitch.". This is a play on words, as bitch can be both an insult and a term used to refer to a female dog. This is the second Silent Hill game developed by Climax Studios that Mira appears in.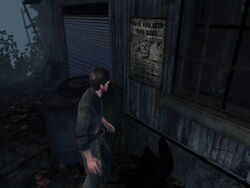 Murphy Pendleton passes a poster that reads, "Have you seen this dog?" on the wall of the gas station early in the game. Later, he encounters a dead dog on a bed on the Devil's Pitstop motel.[2]
In the underground parking lot of the Centennial Building, a normal dog is seen trapped inside a police patrol car.[3] It is later killed by a Weeping Bat.
Comics
Bear is a main character in Dead/Alive and is owned by Kenneth Carter. He most likely is a Golden Retriever, though his breed is not explicitly stated in the comics.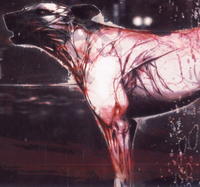 A skinned dog creature is seen by Ike Isaacs as he enters Silent Hill. It has an uncanny resemblance to the Feral of Silent Hill: Homecoming, despite having been created 3 years prior. It may have been the inspiration for the Feral's creation and design. The only differences between Ferals and these creatures are that they have ears and eyes, unlike the Feral.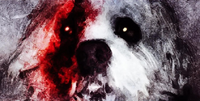 Jack Stanton shot his dog, Digger, when he was young. He was pressured to kill him by his father, Michael Stanton, who wanted to brag about how his son was such a natural born killer, attributing to his current profession. Digger was shot in the eye, and returns to face Jack, still appearing as a corpse, albeit more aggressive. Jack also sees what look like Sniffer Dogs feeding on a corpse when he arrives in Silent Hill.
Gallery
Community content is available under
CC-BY-SA
unless otherwise noted.