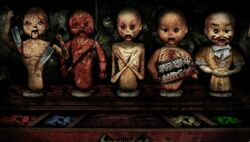 This article is a guide for a Silent Hill: Origins puzzle.
The Doll Puzzle is a puzzle found in Silent Hill: Origins, inside the Otherworld Infirmary within Cedar Grove Sanitarium. It consists of five dolls, each representing various patients and their mental conditions. To solve the puzzle, Travis Grady must insert a specifically-colored pill into each doll's mouth.
Solution
Each doll represents a patient from each of the five rooms in the Otherworld male seclusion wing. First, each doll must be attributed to the patient it corresponds to by assessing the doll's appearance and comparing it to the patients' mental condition. The rooms in the male seclusion area all contain clues that can be identified with symptoms of a certain mental condition. From left to right, the dolls correspond to:
Knife doll = Violent mania = Room 4
Burned doll = Pyromania = Room 2
Thin doll = Anorexia = Room 5
Doll with razors = Self-inflicting violence = Room 1
Doll with dress = Autogynephilia (cross-dressing) = Room 3
Now that the dolls correspond to the patients' rooms, the proper medication for each can be determined by reading the clipboard in the male seclusion area and is as follows:
Knife doll -

Green (salorium)

Burned doll -

Blue (natium)

Thin doll -

Blue (natium)

Doll with razors -

Red (trizanthium)

Doll with dress -

Yellow (oporium)
When all pills are distributed correctly, Travis will obtain the Dr. Harris Key.