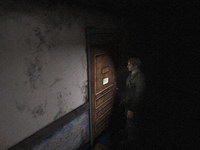 The Door Note is found on the locked door of Room 209 on the second floor of the Blue Creek Apartments in Silent Hill 2. The note is for a man named Tim, informing him that the key for the locked door has been left with his Uncle David. This key can be obtained after completing the Coin Puzzle in Room 105.
Transcript
"Dear Tim,

I have to run an errand so

I'm going out.


I left the house key with Uncle

David (You know where he lives,

don't you? The key is in the room

near the first floor staircase.).

I'll be back as soon as I can, so

please watch the place while I'm

gone"
Trivia
It is possible that "Tim" refers to Tim Robbins, the lead actor in psychological horror/thriller film Jacob's Ladder, and that "Uncle David" refers to David Lynch, director of Twin Peaks and Blue Velvet, among other surreal horrors. All of these bodies of work are known to have influenced Silent Hill 2.
See also
Community content is available under
CC-BY-SA
unless otherwise noted.