Double Heads are canine monsters in Silent Hill 3 that usually appear in groups of two or four and attack Heather Mason upon sight. They also appear in Silent Hill: The Arcade and Silent Hill: Book of Memories.
Appearance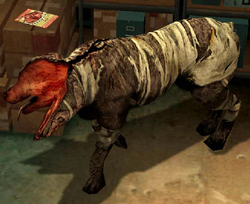 From the jawline, their heads are split vertically down the middle, with their tongue often hanging lazily between the split halves. Each side of the head seems to function independently as if they are two dogs instead of one. They are "bandaged" in bloody strips of flesh and appear to be horribly burned.
One notable aspect is their eyes. The Double Head's right eye is red and has a visible pupil; its left eye appears grey or blue and lacks a visible pupil, possibly meaning that it is blind in its left eye.
When they are attacked by Heather, they sometimes yelp twice instead of once, once for each head.
Character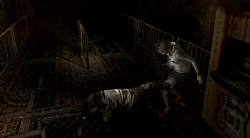 They often roam in packs and are easily distracted by corpses and bait left by Heather, which they immediately start devouring once found and will often ignore her even if she runs past them. However, when they do pay mind to her, they are aggressive fiends. Double Heads tend to howl whenever alerted by Heather's presence, which is immediately followed by more of the hellish hounds obediently appearing and attacking.
When on the attack, they move quite quickly and inflict damage by either lunging at Heather or gnawing at her legs. If multiple Double Heads are attacking, they will usually form a circle around her in an endeavor to forbid her from escaping. The fact that they often attack in packs and show up in numerous locations make them a constant threat to Heather's safety, but a lesser one. They can be distracted with beef jerky.
Symbolism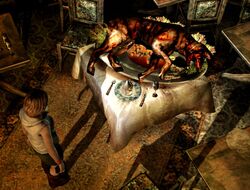 They parallel the Groaners from Silent Hill. Its appearance is greatly influenced by the image of Alessa Gillespie after she was incapacitated due to the fire as well as her fear of dogs. It is also a symbol of Heather's true self hidden within her known as Alessa (one side of the split head is Heather, the other side is Alessa). The bandages and burns are reminiscent of Alessa's burning and her subsequent hospitalization. A cooked dog (not a Double Head) can also be found in a Chinese restaurant, also alluding to Alessa's burning and her feelings of being used, abused, and exploited.
According to the Making of Silent Hill 3, their split skulls are meant to evoke Cerberus, the guard dog of the Greek underworld, and to indicate Heather is entering a nightmarish world. They are the first enemy in the game, seen in Heather's dream.
There is a running theme of maternity and femininity in Silent Hill 3 and its monsters due to the central conflict of the game centering on impregnation in the cult's attempts to force Heather to birth their god. It is possible that this monster's split head could be symbolic of labia or vaginal lips, which must be parted in order for copulation, impregnation, and birth to occur. The tongue hanging out from between the two halves of its head could be symbolic of an still-intact umbilical cord just after giving birth. The Double Head's name may invoke thoughts of conjoined twins with two heads, which could also tie into body horror and women's fears of problematic pregnancies.
Trivia
The Double Head's mouth opens exactly like the mouth of the Split Head, one of the bosses from Silent Hill.
Gallery
Silent Hill 3
Other games
Community content is available under
CC-BY-SA
unless otherwise noted.