Double Heads are canine monsters in Silent Hill 3 that usually appear in groups of two or four and attack Heather Mason upon sight. They also appear in Silent Hill: The Arcade and Silent Hill: Book of Memories.
Appearance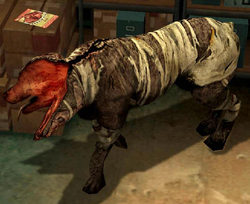 From the jawline, their heads are split vertically down the middle, with their tongue often hanging lazily between the split halves. Each side of the head seems to function independently as if they are two dogs instead of one. They are "bandaged" in bloody strips of flesh and appear to be horribly burned.
One notable aspect is their eyes. The Double Head's right eye is red and has a visible pupil; its left eye appears grey or blue and lacks a visible pupil, possibly meaning that it is blind in its left eye.
When they are attacked by Heather, they sometimes yelp twice instead of once, once for each head.
Character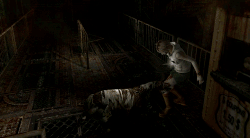 They often roam in packs and are easily distracted by corpses and bait left by Heather, which they immediately start devouring once found and will often ignore her even if she runs past them. However, when they do pay mind to her, they are aggressive fiends. Double Heads tend to howl whenever alerted by Heather's presence, which is immediately followed by more of the hellish hounds obediently appearing and attacking.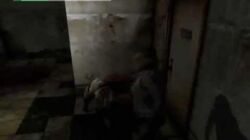 When on the attack, they move quite quickly and inflict damage by either lunging at Heather or gnawing at her legs. If multiple Double Heads are attacking, they will usually form a circle around her in an endeavor to forbid her from escaping. The fact that they often attack in packs and show up in numerous locations make them a constant threat to Heather's safety, but a lesser one. They can be distracted with beef jerky.
Symbolism
The Double Heads are a manifestation of Heather Mason's subconscious, greatly influenced by the image of Alessa Gillespie after she was burned during the ritual to impregnate her with God.[1] They appear with burn scars, wrapped in bandages, and are the first monsters encountered in Silent Hill 3.
Creature designer Masahiro Ito explained that they placed the creature at the start of the game to convey the protagonist entering a hellish world. The split-jaw design was an homage to Cerberus of Greek mythology and it was intended to seem as though the Double Heads are the watchdogs of Hell.[2]
The creature mirrors the Groaners and Split Head, monsters manifested from Alessa's nightmare from the original game. It is evocative of her strong dislike for dogs.[3]
Gallery
Silent Hill 3
Other games
References