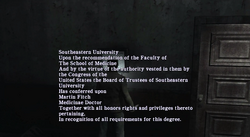 Dr. Fitch's Degree is a memo from Silent Hill: Homecoming found on the hallway in Dr. Fitch's office. It is Fitch's Southeastern University Degree.
Transcript
Southeastern University
Upon the recommendation of the Faculty of
The School of Medicine
And by the virtue of the authority vested in them
by the Congress of the
United States the Board of Trustees of Southeastern University
Has conferred upon

Martin Fitch
Medicinae Doctor

Together with all honors rights and privileges thereto pertaining,
In recognition of all requirements for this degree.