Dr. Fitch's Office is a location in Silent Hill: Homecoming. In addition to his offices, Dr. Martin Fitch also runs his clinic out of the same building.
Alex Shepherd enters the building in pursuit of Dr. Fitch, but the interior is completely deserted. This changes, however, when Nurses suddenly appear before the doctor's office door, as it is a place of significant importance.
Design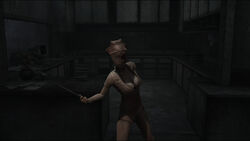 Located off of Main St. in Shepherd's Glen, the first room one encountered is a reception room. Leading off the reception room is a hallway containing four doors, of which two accessible while the others are jammed and blocked.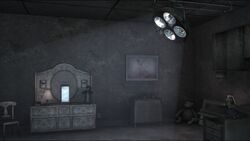 One of the two is an exam room which has been converted into a makeshift girl's bedroom containing Scarlet's Doll, among others. The other door, which only opens after exiting the small bedroom, is Fitch's office, which contains medical instruments, memos and personal belongings pertaining to the doctor.
When Scarlet's Doll is obtained, a shift to the Otherworld occurs, transforming Fitch's building into the area known as the Hell Descent.
Hell Descent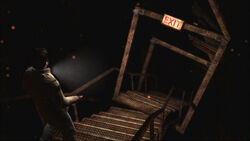 Main article: Hell Descent
The Hell Descent is the Otherworld manifestation of Dr. Fitch's fractured mental state. The environment contains the metal, smoke, fire, and fans that are ubiquitous to the other Otherworld locations of Silent Hill: Homecoming, as well as hospital references that are representative of Dr. Fitch's personal hell. At the end of Hell's Descent, Alex encounters Dr. Fitch and the manifestation of his daughter Scarlet.
Community content is available under
CC-BY-SA
unless otherwise noted.