Echo Photos are photographic remnants of strong emotions and memories in Silent Hill: Shattered Memories. Echo photos can be recognized by slight static effects that can be seen even without the flashlight's help. They can be taken using Harry Mason's phone and leave behind messages through text, picture or voice-mail. While they aren't necessary for completing the game, when the player takes pictures of the UFOs found throughout the game, they will receive text messages from a deranged man trying to prove (with the player's help) that aliens exist. The player receives no reward for finding all of the echoes, but the text messages and voice-mails help to better understand what is happening in Silent Hill, and this enriches gameplay and encourages exploration.
List of Photos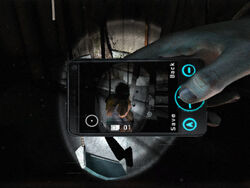 There are 9 echo photos that Harry can take with his phone:
Girl on Swing: At the swing set on the playground. This child is Cheryl. This photo is featured on the cover of the game.
Little Boy Behind Bars: At the bars at the end of dead end hall in the forest pumping station.
Deer Carcass: Towards the wall above the sink in the Orion Hunting Lodge. Voice-mail from a hunter forcing his son to put a deer he shot out of its misery.
Red Sofa: To the right of the red pillow on the sofa in the main room of the Cat House/Honey Trap.
The Choking Game: At the belt hanging on the wall of the Midwich High School, shortly after prying open the window and climbing into the building. A voice-mail of a young man performing auto-erotic asphyxiation. However, it goes wrong and he accidentally strangles himself to death with his belt.
Bench in the Mall: On the bench left of the cinema in the Toluca Mall.
Blood on the Snow: On the ground behind a parked car, after Harry exits the cinema. Picture shows a dead dog.
The Princess and the Knight: At the photo cut-out in the Lakeside Amusement Park. It shows Harry Mason and younger Cheryl in the cut-out. This could refer to how (dependent on the ending) Cheryl held her father in such a high praise, although barely really knowing him.
Gallery
Community content is available under
CC-BY-SA
unless otherwise noted.