A locket with photos of Elle and Nora
Description
"This is the locket that Elle took from her mom."
Location
Given to Alex by Elle
Appearances
Silent Hill: Homecoming
Elle's Locket is an item obtained in Silent Hill: Homecoming. It is given to Alex Shepherd by Elle Holloway. The locket is obtained when the player completes the Hell House puzzles, and after Alex is knocked unconscious after the boat ride, he will wake up on the shores of Silent Hill in possession of the locket.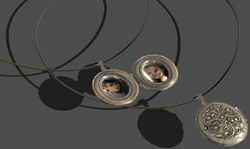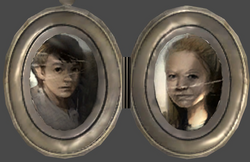 After Alex's mother is kidnapped and Elle Holloway's mother goes missing, Alex, Elle, and Deputy Wheeler decide to go to Silent Hill by boating across Toluca Lake. During the boat ride, Elle gives Alex Nora Holloway's locket. She explains she had taken it from her mother's room the day Nora disappeared, and that she hasn't taken it off since. Upon arriving at the pier in Silent Hill, their boat is soon overrun by members of the Order. Alex is knocked unconscious and falls off the boat, while both Elle and Wheeler are kidnapped and taken to Overlook Penitentiary.
Alex explores the prison and rescues Wheeler. Though failing to find Elle, Alex does find her mother Margaret Holloway in a chamber beneath the Otherworld prison. He gives her Nora's locket, explaining that Elle had given it to him. At this point in time, the monstrous manifestation of Nora, known as Asphyxia, appears and abducts Wheeler. Alex forces the stunned judge to escape, but as she leaves she can be seen smiling before the door seals behind her, trapping Alex inside the chamber with the monster.
See also