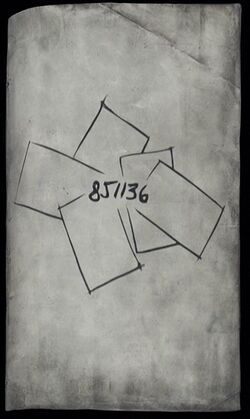 The Envelope Puzzle Tracing in Silent Hill: Downpour is a mystery entry obtained after completing the Scattered Envelopes puzzle in the Centennial Building. Once all the envelope pieces have been put together, a traced version will be copied into the journal. The following number is present on the envelopes: "851136". This is used on the keypad of a door on the second floor.
Unlike certain puzzles before it in past installments, the numbers don't have to be entirely perfect in order to carry out the puzzle; once the numbers are clear enough to the player, whether or not they have been copied into the journal, Murphy can unlock the door.
Transcript
851136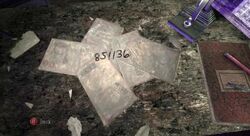 Community content is available under
CC-BY-SA
unless otherwise noted.