For the character from Silent Hill: The Arcade, see Eric.
Eric Walsh is the final victim of Walter Sullivan's initial rampage in Silent Hill 4: The Room. Eric worked as a bartender at Bar Southfield.
On his birthday, a middle-aged customer told him that the pet store owner, Steve Garland, was murdered and the murderer was still at large, causing the bar's owner to close the bar early. Eric returned home, only to find Walter waiting for him. Walter shot him in the face and removed his heart. Eric is known as Victim 10. His memory is represented as a Billiard Ball the player later uses to escape from the Building World.
Silent Hill 4: The Room
In the beginning of the Building World, Henry Townshend enters a room in Hotel South Ashfield with a birthday cake, champagne, party streamers, and Eric's ghost pinned on the ground with a Sword of Obedience. If Henry takes the Sword, Eric will attack and chase Henry through multiple rooms, so it is inadvisable to take it, since there are still four more swords in-game that are enough to pin down the four New Type ghosts.
Eric's memories are also the focus of the Four Reminiscences Puzzle.
In Walter's Otherworlds, Eric, if the Sword of Obedience is taken from his body, appears in the Building World, the Forest World (2nd Time) and the Building World (2nd Time).
Gallery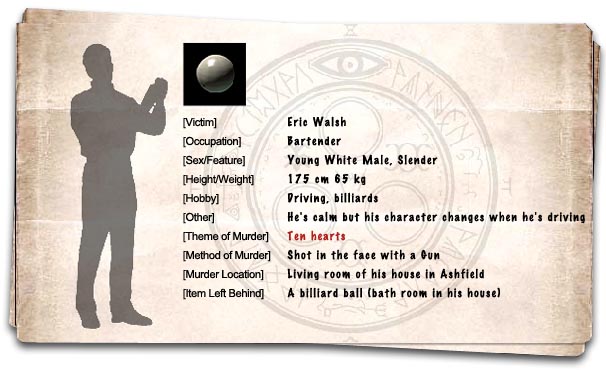 Community content is available under
CC-BY-SA
unless otherwise noted.