Birth date
September 22 1999
Silent Hill films
Silent Hill: Revelation
Character
Alessa Gillespie
Sharon Da Silva
Dark Alessa
Erin Pitt is an actress who appears in Silent Hill: Revelation as young Alessa Gillespie, young Sharon Da Silva and Dark Alessa.
Background
Erin got her start in the 2010 made-for-TV movie, You Lucky Dog. She later went on to appear in Flashpoint, The Listener and as the title character in the 2014 direct-to-video family film An American Girl: Isabelle Dances Into the Spotlight.
Silent Hill: Revelation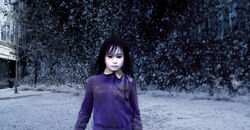 Erin appears in only three brief scenes of Silent Hill: Revelation. She is first seen as a surprised Sharon Da Silva, calling out in surprise to her father from the couch. The two converse, and Christopher must tell his adopted daughter that her mother sacrificed herself for the young girl's salvation. Erin also appears ravaging the town of Silent Hill as Dark Alessa, and is then last seen on the Happy Carousel, flashing into her older form.
Erin was likely hired due to her resemblance to Jodelle Ferland, the previous actress for Sharon/Alessa/Dark Alessa in Silent Hill. Erin appears on the cover of Fangoria magazine as Dark Alessa.