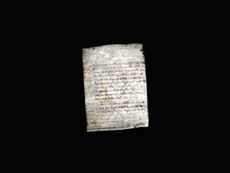 The Exploration Memo is a memo that Henry Townshend finds during his first journey into the Water Prison World in Silent Hill 4: The Room. It can be found lying on the ground at the southeast area of the 1F cellblock hallway.
Transcript
Lucky! I finally escaped from the cell.
I decided to take a careful look around this building.

The scariest place was the 1st floor basement. There's a kitchen in the
northeast, but next door in the northwest is a death chamber.
To get in there, you have to punch in the right numbers. I don't know the
numbers, and it was too dark to even see the panel, so I didn't go in.
Community content is available under
CC-BY-SA
unless otherwise noted.