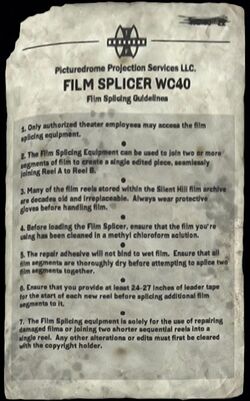 The Film Splicing Guidelines located in the Chastain Heights Cinema are found stuck to the wall in the projection room. It is referring to the ability to join two or more edited segments of a film to create a single piece, and the rules and regulations set out for this method also known as "splicing". This is a hint for the player in regards to the sidequest "Cinéma Vérité".
Transcript
Film Splicer WC40
Film Splicing Guidelines
1. Only authorized theater employees may access the film splicing equipment.
2. The Film Splicing Equipment can be used to join two or more segments of film to create a single edited piece, seamlessly joining Reel A to Reel B.
3. Many of the film reels stored within the Silent Hill film archive are decades old and irreplaceable. Always wear protective gloves before handling film.
4. Before loading the Film Splicer, ensure that the film you're using has been cleaned in a methyl chloroform solution.
5. The repair adhesive will not bind to wet film. Ensure that all segments are thoroughly dry before attempting to splice two film segments together.
6. Ensure that you provide at least 24-27 inches of leader tape for the start of each new reel before splicing additional film segments to it.
7. The Film Splicing equipment is solely for the use of repairing damaged films or joining two shorter sequential reels into a single reel. Any other alterations or edits must first be cleared with the copyright holder.