Description
"This thing will roast the bad guys, and I don't have to worry about fuel, either."
Location(s)
Helen's Bakery
Appearances
Silent Hill 3
Silent Hill: Book of Memories
The Flamethrower is an unlockable weapon in Silent Hill 3 and a high-rank weapon in Silent Hill: Book of Memories.
Silent Hill 3
After completing the game at least once and killing more monsters using firearms, the Flamethrower will be available for use in an Extra New Game. Heather Mason can find the Flamethrower on the counter of Helen's Bakery on the second floor of the Central Square Shopping Center.
The Flamethrower has infinite fuel, though its strength is initially weak. Its potency can be increased by obtaining a 10 Star Ranking. It is used much like the Submachine Gun, with Heather standing in place and aiming the direction of the flames.
The Flamethrower is the firearm counterpart of the Beam Saber. After unlocking the Flamethrower, the Beam Saber will be unlocked automatically after completing the game again.
Silent Hill: Book of Memories
The Flamethrower is a powerful ranged Expansion Pack weapon in Book of Memories.
Trivia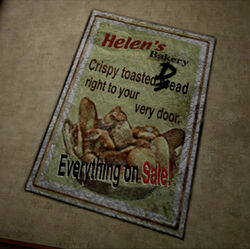 Finding the Flamethrower in the Silent Hill HD Collection awards the trophy/achievement "Flame On".
On top of the bakery counter is a flyer that reads: "Crispy toasted bread right to your very door." If the Flamethrower has been unlocked, the flyer will have changed into: "Crispy toasted DEAD right to your very door."
Similar to the Submachine Gun, Heather cannot move while aiming this weapon because the analog or the directional-pad buttons are required to aim, making this weapon one of the few weapons which allow Heather to aim on the Y axis.
The weapon bears a similar design to the M240 Incinerator Unit from the movie Aliens.
See also
Gallery
Community content is available under
CC-BY-SA
unless otherwise noted.