GTA: The Criminal Enterprises - The Loop
Play Sound
The Flesh Lip, also known as Lustful Lips, is a monster and a boss encountered in Silent Hill 2 by James Sunderland. James meets three of them after Laura tricks him, locking him inside examining room two on the first floor of Brookhaven Hospital. After defeating all three Flesh Lips, James is transported to the Otherworld hospital.
Flesh Lip also appears in the spin-off game Silent Hill: Book of Memories.
Appearance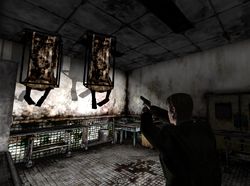 It appears as a bloated, malformed mass of meat and flesh with human-like limbs jutting out from its top and bottom, suspended in a rusty, metal frame. A pair of large, smacking lips appear on the bottom of the creature, and it attacks by strangling the player with its legs. In the cutscene before the player regains control, it can be noticed that the Flesh Lips emit an animalistic groaning sound.
In the final battle of Silent Hill 2, Mary Shepherd-Sunderland/Maria turns into a creature that loosely resembles the Flesh Lip.
Character
Flesh Lips are very slow-moving, albeit due to the small quarters James must fight them in, this doesn't make them any less dangerous. Flesh Lips may also increase their pace by swinging their legs instead of subtly rocking them.
If they are allowed to swing near to James, they will grab and strangle him with their feet. They can also simply bash James with the side of their cage for a small amount of damage.
The best strategy is to blast them with the shotgun before they get too close. Each hanger will die after about two or three shots each, depending on the difficulty level. However, aiming up at the Flesh Lips may be difficult, so distance and being aware of when James is locked onto a Flesh Lip is important. If James has no shotgun bullets, the steel pipe also works, although it is probably better to use the handgun.
When a Flesh Lip is defeated, it stops moving and lifts its feet up. After the two Flesh Lips are defeated, a third, and faster, one will appear.
Flesh Lip has slightly different versions of itself in different versions of the game.
Symbolism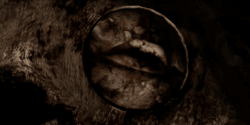 According to the Book of Lost Memories, the lattice represents a bed, and the "mouth" located on the abdomen represents Mary's mouth.[1] The monster's lips are reflections of Mary's mouth which abused James with cruel words during her last days, according to developer Masahiro Ito.[2]
The cage-like contraption each Flesh Lip is held within could also be symbolic of how Mary was confined to a bed in her terminal illness, as this greatly limited her freedom. There being three of them may also represent the three years of Mary's illness.
The creature's lips could possibly represent labia or vaginal lips, contributing to the sexual theme of the game.
Silent Hill: Book of Memories
In Silent Hill: Book of Memories, the Flesh Lip loses its boss status and instead is a frequently-occurring enemy from Zone 4 onwards. It has no primary method of attack, instead taking on the role of a summoner, spawning enemies into the room until it's defeated. In this regard, it is similar to the Mother.
Trivia
If James dies during the fight, a Flesh Lip carries James into the ceiling.[1]
Defeating the Flesh Lips in the Silent Hill HD Collection unlocks the trophy/achievement "Where's That Letter!?".
In its early sketch, the Flesh Lip's mouth was instead a protuberance.
The Flesh Lip greatly resembles artwork of Francis Bacon, an influence on Ito. Bacon usually placed his subjects in geometric cages with deformed appendages.
References
Gallery
Silent Hill 2
Silent Hill: Book of Memories