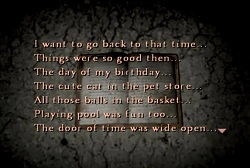 This article is a guide for a Silent Hill 4: The Room puzzle.
The Four Reminiscences Puzzle is one of the few puzzles within Silent Hill 4: The Room, located in the Building World during Henry Townshend's second venture to it.
Henry finds a memo shortly after reentering the world where Eric Walsh fondly reminisces of certain aspects of his past life: birthdays, volleyball, pool games, and cats. Henry must find these four specific objects related to these reminiscences (cake candles, a billiard ball, a stuffed cat, and a volleyball), which lay scattered throughout the world, and place them appropriately throughout.
Solution
The fastest solution:
Get the cake candles in Albert's Sporting Goods.
Go to Walsh's room and place the candles on the uneaten birthday cake. Get the stuffed cat in the same room.
Get the billiard ball, found in the chamber beneath the pair of elevators.
Get the volleyball, found near a water tower on route to Bar Southfield.
Put the billiard ball on the pool table in Bar Southfield.
Put the volleyball in a basket in Albert's Sporting Goods.
Put the cat in a cage in Steve Garland's pet shop.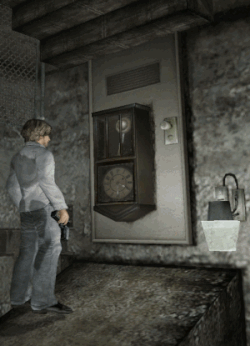 After correctly placing all four objects, a distant ticking will be heard. The sound comes from within a room that has literally been turned upside-down; it holds the exit door to the world. The room is located by Garland's pet shop so visit the pet shop again, enter a door in the pet shop, go downstairs and enter the room at the bottom. The puzzle unlocks the door and starts the clock affixed to it.
Trivia
A major glitch allows the player to skip this quest. It requires putting Eileen Galvin near a wall, running into her, and then running quickly into an elevator, leaving her behind. After heading in the direction of the wheelchair room area, Eileen will come and follow Henry, having apparently walked through the fence.[1]
There are warped rooms similar to the upside-down clock room in Silent Hill: Shattered Memories and Silent Hill: Downpour.