The Gasoline Tank is an item obtained in Silent Hill and Silent Hill: Homecoming. It holds gas, which has multiple uses.
Silent Hill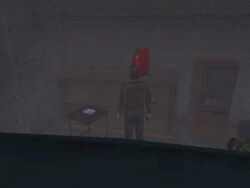 The gasoline tank is found at the Hell Gas Station on Bloch Street. The player must first complete the game once in order to obtain the gas tank to power up the rock drill and chainsaw.
The chainsaw is slightly less powerful than the rock drill and has different types of attacks, but is slow to recover and rather difficult to use. Unlike the rock drill, however, the chainsaw can be turned on and used to attack enemies while Harry is moving, allowing him to deal damage by simply walking into enemies.
Silent Hill: Homecoming
The gasoline tank appears once again as the Gas Can in Silent Hill: Homecoming. It is found empty in the Shepherd House's garage, in a locked box, which the player must pry open with the steel pipe. Alex can then siphon the fuel out of an abandoned truck past the playground, to power up the sump pump to drain the flooded basement. This allows Alex to proceed to the backyard of the Shepherd House.
Gallery
Community content is available under
CC-BY-SA
unless otherwise noted.