The Gillespie House was the home of Alessa and Dahlia Gillespie. It was located in Silent Hill's Business District before being completely consumed by flames in Silent Hill: Origins.
Silent Hill: Origins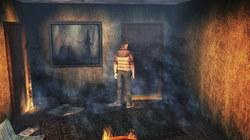 The house is prominently featured in the introductory sequence of Silent Hill: Origins, where protagonist Travis Grady sees the burning house and runs inside to rescue Alessa. The floor breaks and Travis manages to get out of the house with Alessa's charred yet living body in his arms. Dahlia, initially spotted by Travis, watches from afar. Travis then collapses outside the house to wake up in Silent Hill.
As revealed in the game, as well as sequels Silent Hill and Silent Hill 3, the burning of the house was an attempt by Dahlia and the Order to sacrifice the seven-year-old Alessa and nurture the god growing within her. Because Travis interferes, Alessa's soul splits in half and the seed within lies dormant for seven years.
Silent Hill
The house first appears in Silent Hill during the intro sequence of the game, before its burning in Silent Hill: Origins.
In Nowhere, a manifestation of the house appears. Harry Mason can find a room which may be the house's attic, Alessa's bedroom, and a hallway past the bedroom with stairs leading down to the final boss area.
Silent Hill 3
Similar to Silent Hill, Heather Mason visits the Gillespie House in the form of Alessa's bedroom at the end of the game.
Trivia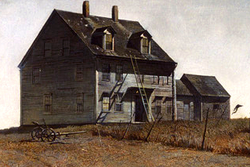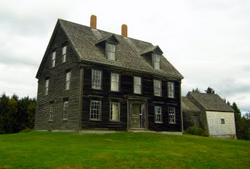 The design of the Gillespie house was inspired by Andrew Wyeth's 1948 painting Christina's World. The house in the painting is based on the Olson House, which is located in Maine. The town of Silent Hill is also located in Maine.
In Origins, inside the house is a painting of Pyramid Head. It is unknown if this is a simple easter egg or has deeper underlying meaning.
Despite supposedly being located in the Business District, the intro of Silent Hill and the beginning of Silent Hill: Origins depict the Gillespie house located in a relatively remote site of Silent Hill, close to the town's entrance.
The paintings in the house in Origins differ between the PlayStation Portable and PlayStation 2 versions.
In Silent Hill, on the wall that lines the staircase, a photograph can be found that bears a stunning resemblance to the corpse found in the stall in Midwich Elementary School.
In Silent Hill 3, the fact that there is a key on the wall where a missing moth should be could be a reference to the Floatstinger, almost as if the moth escaped Alessa's room and grew to an enormous size.
Gallery
Silent Hill
Silent Hill 3
Silent Hill: Origins
Community content is available under
CC-BY-SA
unless otherwise noted.