Golden Leaf Warehouse is a location in Silent Hill: Shattered Memories that Harry Mason is able to enter.
It is found in Central Silent Hill, near Nightingale Apartments. It is an optional location, and is one of two paths that Harry can take to get to the entrance of Toluca Mall. Harry can enter the building by jumping the fence behind the building, climbing on top of a storage unit, and then climbing through a window. He will then be in an office area. In one of the photocopy machines, he can find the "Synthetic Femur" memento.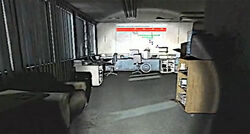 The door on the other side of the office takes him to a storage area with two sets of steps. The second staircase takes him to another stairwell leading to the Toluca Mall entrance.
Community content is available under
CC-BY-SA
unless otherwise noted.