Good Ol' Days (alternatively spelled Good Old Days) is a bar that Harry Mason can enter in Silent Hill: Shattered Memories. The bar is located in the northwest area of Silent Hill, near the right end of Bachman Road.
Good Ol' Days is one of the first areas that may or may not become available depending on the player's Psych Profile. If the player is perceived as a more friendly and extroverted person, then the bar will become open. Alternatively, if the bar is closed Harry can enter Diner 52. Both locations serve the same purpose, as the same memento can be found in both, and Harry meets a woman upon entering either building.
Inside the bar Harry meets a bar maid, who, after seeing his ID, advises Harry to return to his home on Levin Street to see if his missing daughter is there. Harry also discovers his phone within the bar, after receiving a mysterious call. The bar maid doesn't introduce herself, and she does not reappear again in Harry's search, making her only a minor character in the game.
Versions
There are two versions of the bar: an Irish pub with a green clover painted on the window, or a sports bar with blue baseball-themed decor. The latter has the name as "Good Old Days" with "Sports Bar" in a banner underneath it. Either version of the bar may be available depending on the player's Psych Profile.
Trivia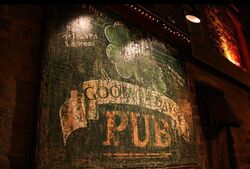 Gallery
Community content is available under
CC-BY-SA
unless otherwise noted.