In contrast to the voluminous memos found throughout the Silent Hill games, the comics employ extensive graffiti. Unlike the memos found in the games, the graffiti is simply used to build atmosphere, though it will occasionally lend itself to enhancing plot.
The inaugural issue of IDW's Silent Hill series, Dying Inside features graffiti most often pertaining to God.
Issue 1
Pg. 04 - As Lynn DeAngelis is backed against a wall by Christabella LaRoache and her monsters, the message "God lives in us all" can be seen behind her.

On that same page but in the next panel, the message changes to read " (Unknown) WAS HERE"[1]

Pg. 5 - Lynn is surrounded by monsters, with the previous message having changed yet again to read "The Order is your friend".
Pg. 19 - A wall reads "God is good You are evil".
Issue 2
Pg. 10 - There are two separate messages, one reads "Only ONE birth is sacred. Use protection", while the other reads "Come out and play the God is waiting".
Pg. 15 - A wall reads "The hand of God is upon you".
The entirety of Issues one and two play out as if they're being viewed from a video tape. Issue two ends with Raymond Foch claiming that the above messages have been changing with each viewing.
Issue 3
Issue three begins with footage being played from Lynn DeAngelis' video she shot of Silent Hill.
Pg. 3 - A wall reads "72 Princes 1234321X6 P**hagorean." [3]
Pg. 4 - A wall reads "Gadarenes Mark 5:2 5:5 Legion" [4]
Pg. 6 - A wall reads "Haborym, Shax, Moloch, Belial, Dantalian, Raum" [5]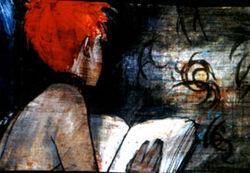 Pg. 9 - Symbols are seen scrawled on the side of a shed.
Pg. 13 - A wall is scrawled with a message, most of it obscured, though what can be seen reads "...had it coming".
Pg. 18 - A wall reads "Cry to Heaven" and "The Order", as well as "VALAFAR WATCHES OVER YOU".
Pg. 23 - More symbols can be seen written on the walls.
Issue 4
Pg. 3 - A wall reads "The Hidden The (OBSCURED)" and "(Obscured) 1608 Compendium Maleficarum."[6]
Issue 5
Pg. 14 - Preparing to open the way to the sleeping patient said to be responsible for the darkness enshrouding Silent Hill, two sets of numbers, which Lauryn calls equations, can be seen written on a wall; "80452327" and "75161423".
Pg. 7 - A wall bears a brand-like symbol and the message Abandon All Hope.[7]
Graffiti is placed in order of appearance.
The Order Has You is scrawled on a wall with a pentacle.
DOLLEY IS HUNGRY is written on a wall behind a knife-wielding doll.
The Brand of Samael is seen on a wall, with the message COMES NOW, THE VENOM OF GOD written beneath.
THE ORDER RISES SAMAEL IS COMING can be seen on a wall, with the brand beneath it.
BEAR WITNESS, DOUGLAS THE TASK IS YOURS, THE BOOK MUST BE WRITTEN is seen on a wall with the brand beneath it.
Issue 1
Pg. 8 - Silent Hill is written on the floor of a supermarket.
Pg. 9 - A monster is shackled to a wall and gutted, with the message Attack Tourists? See What You get. Lauryn's Law beside its head.
Issue 2
Pg. 16 - Above the corpse of Kenneth Carter's girlfriend, a wall bears: Here lies Jessica Aldrich, an annoying little whore who got what she deserves I'm coming Kenneth with blood on his hands coming coming WHO'S NEXT?
Trivia
Community content is available under
CC-BY-SA
unless otherwise noted.