Grey Children, also known as Demon Children, are child-like, knife-wielding monsters in Silent Hill. The Grey Children are the first creatures to be encountered in the town by Harry Mason. After a transition into the Otherworld, Harry is cornered and overcome by Grey Children in an alley, but wakes up at the Cafe 5to2 diner, apparently rescued by officer Cybil Bennett. Grey Children reappear prominently later on in Midwich Elementary School.
A ghost form of these monsters, called Stalkers, later appear in the sewers and Nowhere. Unlike the non-aggressive Larval Stalker, these ghost forms are just as deadly as their grotesque counterpart.
Grey Children are exclusive to the North American version of the game and do not appear in the European or Japanese version. They are instead replaced by Mumblers in these versions, as their appearance was deemed too similar to that of a child by censors.[2]
Grey Children are also found in its film adaptation, and Silent Hill: Book of Memories as DLC.
Appearance
In Silent Hill, the Grey Children appear as child-like creatures with pale grayish-green skin wielding long knives. They have gap-like mouths and a series of slits where their eyes would be.
Their official art differs slightly from their in-game appearance. Their official art has a greener tint, reminiscent of the Hanged Scratcher. Their in-game appearance also has belt-like restraints around their torsos.
In the film, they have dull, gray-colored skin and staring eyes. Their faces are twisted on the sides of their heads. They continuously burn from the inside out, shrieking the scream of a child in immense pain.
Character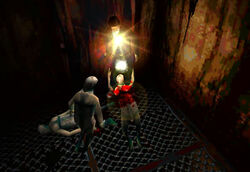 These creatures walk quickly and generally attack in pairs or groups of three. They are slender with long arms, and each wields a long knife.
As they approach a target, they leap at their victim, grabbing it by the legs and pinning it while they attack and laugh. If Harry is being grabbed, repeatedly tapping the

button and wiggling the analog stick will get them off faster and lessen Harry's damage.
The handgun is generally the best weapon of choice for dealing with Grey Children. It is recommended the player knows how to walk backwards and shoot at the same time, as well as switch targets.
Symbolism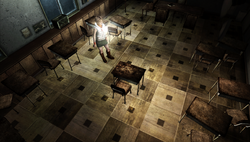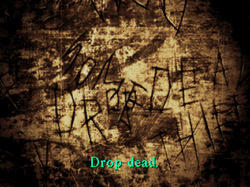 As the Book of Lost Memories was written for the Mumbler, there is no official confirmation on what Grey Children represent. The Mumbler is noted as being the image of small menacing animals and small demons from fairytales. It is unknown if this symbolism carries over to the Grey Child.
One interpretation is that Grey Children are the distorted, disturbed perception of Alessa Gillespie's classmates as seen through her eyes, reminders of the torment and ridicule they abused her with, such as scribbling "GO HOME" and "DROP DEAD" on her desk. This is supported by the Grey Children's childish laughter whenever they attack Harry. They also resemble children in how they hug his legs as young ones occasionally do. They latch tightly to Harry and the player must constantly shake them off, possibly a symbol of how relentless Alessa's bullying was.
Their first appearance where several of them group up to attack Harry Mason might be representative of how Alessa's classmates could have grouped together when bullying her.
Unlike Mumblers, Grey Children carry knives, which may symbolize how Alessa felt her classmates were hostile and ready to attack her at any moment.
Silent Hill film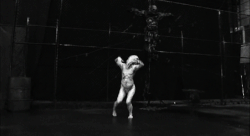 The Grey Children appear in the beginning of the film, swarming Rose Da Silva in the Otherworld version of an alleyway. The Grey Children reach out and try to grab Rose, ripping off her jacket in the process. They disintegrate as the Otherworld lifts and the Fog World is reinstated.
While Rose runs away from them, the Grey Children do not particularly seem to want to harm Rose on purpose, acting instead like a child in pain who is trying to get their mother's attention. The first one Rose sees reaches its arms out to her, acting as though it wants to be held, and only when Rose starts running away and tries to kick them off do they start to act with more aggression. They would most likely burn Rose if they held her any longer than the ones who held her ankles did. The monsters may not realize they would burn or injure Rose and instead only feel the pain of the burning and a longing for a mother to comfort them. It is possible they are attracted to flame, as Rose is holding a lighter when they first appear.
Symbolism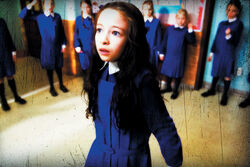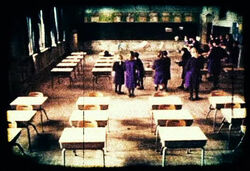 The Grey Children are the classmates of Alessa, who bullied her in school, causing her emotional pain and distress. After being burned alive as a witch, Alessa dragged her classmates into the Otherworld and turned them into monsters who were constantly tortured by the same pain she felt while being burned by the cult. Alessa's classmates told her to "burn", and the Grey Children appear to be burning internally as a form of revenge.[3] In reality, the Grey Children would be adults around 40 years old; however, they are condemned and cursed to be eternal children, unable to grow up and lead normal lives because Alessa was unable to, sharing Alessa's same wrath and unfair punishment.
Trivia
The Grey Children, as well as being the first monsters in the series, are the first monsters in the series to be seen using weapons, in the case of their knives.
In the film, the Grey Children are played by a dancer named Yvonne Ng in a costume with CGI burning effects added. Several shots of Yvonne were made and then superimposed onto each other to make it appear as though there were several Grey Children attacking Rose. Yvonne and Gans came up with the idea for the monster to walk with its toes in and arms out, since small children just learning to walk will often stick out their arms to help balance themselves.
References
↑ Gans, Christophe (2009). Silent Hill: Metropolitan Édition Haute Définition [Blu-Ray; Disc 2/2]
Gallery
Silent Hill
Silent Hill: Book of Memories
Silent Hill film