Greys (a popular depiction of extraterrestrials) are recurring characters that appear in all of the Silent Hill UFO endings, except for the games which don't contain a UFO ending like Silent Hill 4: The Room. Since they only appear in joke endings, they are not considered to be canonical characters in the series.
When Harry Mason uses the Channeling Stone found in Convenience Store 8 on top of the lighthouse, a group of UFOs is seen in the sky. As the UFOs land, the cut-scene changes style to a roughly animated picture show. Harry, unfazed by this strange turn of events, asks the aliens if they have seen his daughter, but is shot down and brought into their UFO. The UFOs take off and the credits roll.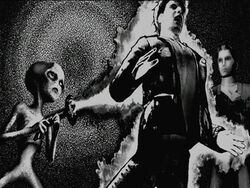 This ending is only available in the Director's Cut, Greatest Hits and HD Collection releases of Silent Hill 2. In order to obtain this ending the player must find the Blue Gem in the rest stop bathroom and use it in specific locations.
There is no spoken dialogue, as the ending is conducted in still pictures with slides inserted with text, in the manner of a black-and-white silent film of the early 1900s. Harry gets off the alien ship, and James Sunderland asks him if he has seen his wife. In turn, Harry asks him if he has seen his daughter. An alien appears and shoots James with some sort of ray-gun, then the alien and Harry drag James away. Harry and the alien share a thumbs-up as the screen fades. The credits roll in the same style as the previous installment.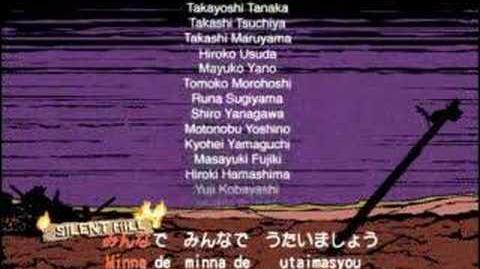 To obtain this ending, on a second game, the player must kill at least 30 monsters with the "Heather Beam/Sexy Beam" attack before entering Heather's apartment. Heather Mason comes home to find that her father Harry is not only still alive but is sitting at the table having tea with an alien, James Sunderland located sheepishly in the background. After telling her father all that she had experienced, the irate Harry breaks a piece of wood with a kick that James is holding up and then goes with the aliens to destroy the town of Silent Hill.
This ending is done with a comic style similar to the first game's UFO ending, except drawn in more of a traditional comic-book style with a somewhat animated ending of the UFO ships destroying Silent Hill. As the credits role, a song called "Silent Hill no Uta" plays in the background, featuring a group of people singing about the game's characters' personalities in Japanese.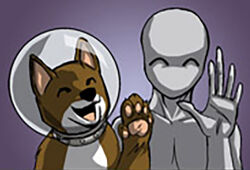 This ending plays if, on a second game, the player finds the key to hotel room 502 and attempts to use it. Travis Grady tries to open the door, though it refuses to open, even with the key. To Travis's surprise, a UFO comes down from the sky. It opens to reveal an alien and Mira, the dog from Silent Hill 2's Dog ending, wearing a transparent space helmet. They greet him enthusiastically, and Travis asks if they have seen his truck. The alien tells him that his truck is on the alien's planet, much to Travis' extreme delight. Travis asks if he can come with them, to which the alien responds "You drive stick?". Travis joins the two on their ship, and then flies away with them.
This ending reflects a more anime or manga Japanese art style.
Although not directly seen, in the UFO Ending of the game, Alex Shepherd and Elle Holloway are abducted by an unearthly aircraft. Standing nearby, Deputy James Wheeler exclaims, "So that's where they've been taking everybody! I knew it!"
Should the player shoot all of the UFOs dotted around the game, they will be rewarded with the UFO Ending upon defeating the Phantom. In this ending, Eric is greeted by his great-grandfather, Captain, who is accompanied by a group of Greys. Captain says that the UFO is his new ship, and that if Eric and Tina want Emilie Anderson and Hanna back, they will have to "chase him... to the end of the universe!". Eric and Tina set off in another ship and chase after Captain. As the camera pans out, the player sees Robbie the Rabbit playing Gradius, in which Eric and Tina are flying after Captain's UFO.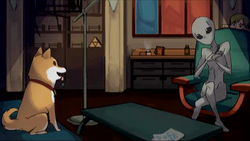 Silent Hill: Shattered Memories ends with Cheryl Mason believing that her father was abducted by aliens, to which Dr. Kaufmann states it made more sense when she was talking about cults and demons. Cheryl then comes to the conclusion that the whole town of Silent Hill is a giant spaceship. Cheryl is later replaced or transformed into Mira, and Dr. Kaufmann turns into an alien. Mira then complains about her mother being a bitch (female dog).
The art style is that of a manga comic, much like that of Origins, which was also developed by Climax Studios.
Trivia
Though not physically present in Silent Hill: Homecoming, a UFO ending is shown where Alex Shepherd and Elle Holloway are abducted by a flying saucer. It is safe to assume that the Greys are piloting the ship.
A toy of a Grey appears as a Silent Hill trinket in Silent Hill: Downpour. When Murphy Pendleton picks it up, he wonders if people really do believe in aliens, and comments that being abducted by aliens would be one way to escape from Silent Hill.