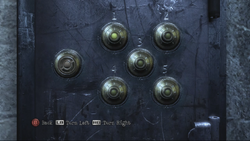 This article is a guide for a Silent Hill: Downpour puzzle.
The Guard Tower Safe Puzzle is a puzzle that Murphy Pendleton must solve in Overlook Penitentiary in order to advance in Silent Hill: Downpour. It is typical of the safes in the game in that when one dial is turned, other dials may indirectly be turned. A small key and a quarter dollar are in the safe.
Solution
The code to the safe is 11752, which is the number on the back of Murphy's prison jumpsuit. This number is hinted at when Murphy looks at a board with six prisoner mugshots, Murphy's included; all of the prisoners' numbers are displayed except Murphy's, which is blurred out. Due to this, the player must position him in enough light to document Murphy's number.
The puzzle has three different methods of solution depending on the difficulty level.
Easy
Turn dial 1 right three clicks
Turn dial 2 right one click
Turn dial 3 left three clicks
Turn dial 4 left two clicks
Turn dial 5 left four clicks
Normal
Turn dial 3 right two clicks
Turn dial 2 right one click
Turn dial 4 left two clicks
Turn dial 5 left four clicks
Turn dial 1 right three clicks
Hard
Turn dial 3 right two clicks
Turn dial 2 right one click
Turn dial 4 right one click
Turn dial 5 right four clicks
Turn dial 1 left one click
Gallery