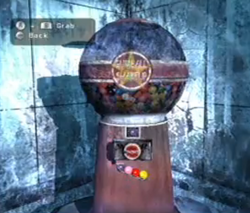 This article is a guide for a Silent Hill: Shattered Memories puzzle.
The Gumball Shakeup Puzzle is featured in Silent Hill: Shattered Memories, near the end of a Nightmare sequence in Toluca Mall. Harry Mason must solve it to move forth and escape the mall.
Solution
After escaping the Raw Shocks, Harry comes upon a room with the frozen statues of a father and his child. Upon approaching them, he receives an echo message on his cellphone. The voice-mail has a man talking to his wife over the phone, trying to figure out what kind of colored candy his daughter likes, to which she replies it's the one that has her favorite color. The father doesn't know her favorite color, and his wife tells him that it corresponds to he mall's mascot, which prompts the father to reply, "The bird?"
The bird refers to a Tookie the Toucan, which stands in the center square of the mall and that Harry passed earlier. The toucan's bill is striped in four colors: pink, violet, red, and yellow. Harry must assemble four gumballs on the lower tray that correspond to the toucan's bill, shaking the top section of the machine to select colors, then turning the dial to place them in the tray. The colors do not need to be in any particular order. Once the lower tray has four gumballs colored pink, violet, red and yellow, the Nightmare Sequence ends and Harry can continue.