Guy Cihi is the actor who voiced and did the motion capture for James Sunderland in Silent Hill 2.
Beyond Silent Hill 2, he hasn't worked in the video game industry before or since Silent Hill 2 until Forgotten Memories, where he voiced a character called Nathan Barnes.
Silent Hill HD Collection
Upon hearing that the original voices in Silent Hill 2 were to be replaced in Silent Hill HD Collection, Guy posted on his Facebook page that the reason behind the change was because Konami refused to pay him for his work as James Sunderland for the game's re-releases on other consoles.
Mary Elizabeth McGlynn, who had taken over the new voicework, claimed Guy was in the wrong and had been ignoring calls from Konami representatives trying to work the problem out. Further statements from other creators for the HD Collection, as well as from Thessaly Lerner (the voice actress for Lisa Garland in Silent Hill), affirmed that "residuals", payments made to actors after their initial payment for the use and re-use of their performances, do not exist in the gaming industry. Statements by David Schaufele (the original voice actor for Eddie Dombrowski) have said otherwise.
Currently, the actor's union in the United States, SAG-AFTRA, does not have a residuals system in place for video game voice acting performances, and under non-union contracts, residuals for any kind of acting work are almost non-existent, with almost all performances being paid for as buy-outs (one-time payments for unlimited use and re-use). However, it is possible that actors in Japan are compensated differently and all of the original motion-capture and voice acting work for Silent Hill 2 was recorded in Japan, giving a possible explanation for the discrepancy over Guy's claims regarding residuals.
In any event, Guy stated that it was not about the money but rather "the thoughtless way that those involved in the production have been treated" such as not notifying him of any re-releases and hiding his contributions in the The Making of Silent Hill 2 video. Guy also called for Konami to allow the original voices and give fans the option to choose between the original dub and the re-dub. [1] Guy's close connection with fans of the series played a strong part in his decisions regarding these issues. Monica Taylor Horgan supported giving fans an option as well. [2]
Eventually, Guy met up with Monica Taylor Horgan (Mary Shepherd-Sunderland and Maria), David Schaufele (Eddie Dombrowski), Devin Shatsky, and Tomm Hulett, and the voice actors gave Konami their permission to use their voices for any re-releases of Silent Hill 2, allowing their voices to be used in Silent Hill HD Collection.
Trivia
For a few years following Silent Hill 2, Guy didn't keep in touch with the fanbase as he was unaware of how much Silent Hill 2 meant to its fans, and it was only around the release of the Silent Hill HD Collection that Guy began interacting with the fanbase more.
Guy reprised his role for a YouTube video of a fan-fiction novelization of Silent Hill 2. [3]
Guy's daughter auditioned for Laura's role in Silent Hill 2, but she did not get the role, which was actually the only reason Guy Cihi was present at the studio the day of auditions. With acting in his high school and college history, he soon became interested, and he himself auditioned for James Sunderland. Team Silent felt that Guy was what they envisioned James to be like. At the time, Guy did not know the impact and influence that Silent Hill 2 would have on survival horror gaming.
Guy played Silent Hill: The Arcade.[4]
When Guy and David were going to visit Tomm Hulett, Monica Horgan, and Devin Shatsky in LA, they passed by a bowling alley that reminded them of Pete's Bowl-O-Rama. For reminisces, they ran inside, took a picture, and then continued to meet their former co-workers for dinner.
Guy's birthday is on the same day as the release of the first game, January 31st.
Guy enjoys video games such as Mario Kart and FPS titles, as well as anime such as Saint Young Men.
Guy was a little unsatisfied with his performance during Angela's fire staircase scene, due to a lack of direction. This was also because Guy Cihi was not present during this scene, and his and Angela's (Donna Burke's) were recorded separately. Jeremy Blaustein filled in James's mocap for Cihi during this scene.
If Silent Hill 2 was adapted into a movie, then Guy Cihi would prefer Chris Hemsworth to portray James.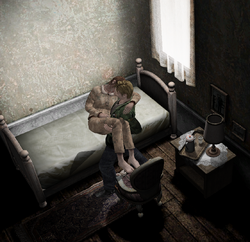 Guy stated that one of the most difficult moments of mocapping James was carrying Mary's body in the "In Water" ending and that it was heavier than it looked.
Guy believes that the "In Water" ending is probably the canon ending of Silent Hill 2. He states this in the livestream he does of the game and backs it up with multiple factors in Japanese culture.
Also in the livestream, Cihi mentions having a strong connection to James's state of mind following Mary's death. Resulting from the end of his first marriage, he too experienced times of contemplating suicide.
Guy was against the inclusion of the Dog Ending of Silent Hill 2, feeling it destroyed and ruined the serious tone of the story. Guy eventually agreed after being told it was a "Japanese thing" and that the Dog Ending could only be unlocked on a second playthrough.
External links
Community content is available under
CC-BY-SA
unless otherwise noted.