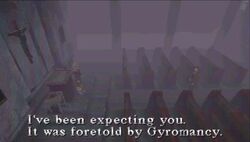 "
I've been expecting you. It was foretold by Gyromancy.
—Dahlia Gillespie to Harry Mason

"
Gyromancy is a religious practice referenced in Silent Hill.
Gyromancy is a method of divination in which a person spins around inside or walks the circumference of a circle drawn on the ground, the perimeter of which is marked with the letters of an alphabet. The divination is inferred from the letter at the position where the person either stumbles or falls across the circle's edge. The person would repeat the practice "...till he evolved an intelligible sentence, or till death or madness intervened". The dizziness brought on by spinning or circling is intended to introduce randomness or to facilitate an altered state of consciousness.
When Harry Mason first encounters Dahlia Gillespie in the Balkan Church, she states that she has been expecting him, as it was "foretold by Gyromancy". This suggests that she (and likely the other members of the Order) engages in the practice of Gyromancy. As the Halo of the Sun is a circle whose circumference contains symbols, it is likely that it was the circle used in the practice.