The hammer in Silent Hill
Description
"Emergency hammer. Highly damaging, but hard to use."
Durability
Indestructible (Silent Hill)
High (Silent Hill: Origins)
High (Silent Hill: Downpour)
Location(s)
Alchemilla Hospital's generator room
Varies (Origins)
Varies (Downpour)
Appearances
Silent Hill
Silent Hill: Origins
Silent Hill Downpour
The Hammer is a weapon in Silent Hill, Silent Hill: Origins, and Silent Hill: Downpour.
Silent Hill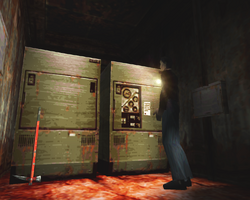 Harry Mason obtains the emergency hammer in Alchemilla Hospital's power generator room while in the Otherworld. It is the strongest melee weapon in the game and is recommended for Puppet Nurses and Puppet Doctors thanks to its reach and also extreme damage it inflicts. However, for quicker, multiple, or smaller enemies, the hammer can be inefficient.
Silent Hill: Origins
Described as a sledgehammer, the weapon is the very first melee item found in the game by Travis Grady, who must defend himself against a Faceless Nurse. The hammer has a quite lengthy lifespan and respectable fatality as well. It is strong enough to take down most monsters and can be swung quickly, and it also offers more distance from the game's various monsters. The weapon can be found in many areas within the game. Travis attacks via striking back and forth and can inflict the final blow by lifting the hammer over his head prior to swinging it down upon the enemy.
Silent Hill: Downpour
There are two types of hammers in Silent Hill: Downpour that can be found in Silent Hill by Murphy Pendleton. Being breakable weapons, there are many of both types scattered around the town. They deal a good amount of damage, and they don't slow Murphy down much, meaning they are ideal for combat. The sledgehammer is bigger and slower, but it deals more damage. It can lose its top easily, becoming a weak stick. The handheld hammer is small and very fast, dealing a significant amount of damage as well. The handheld hammers are also ideal throwing weapons.
Trivia
Community content is available under
CC-BY-SA
unless otherwise noted.