Hand-to-hand fighting
or
fisticuffs
, is fighting with one's own hands. To date, there are only three
Silent Hill
games that feature fist fighting, being
Silent Hill: Origins
,
Silent Hill: Downpour
and
Silent Hill: Book of Memories
. The reason for this mechanic being in place is most likely because all three games feature a breakable weapons system, meaning that the player must have some form of alternate offense if no other weapons are available. However, this is very unlikely to happen in
Origins
, due to
Travis Grady's
virtually infinite inventory space.
Silent Hill: Origins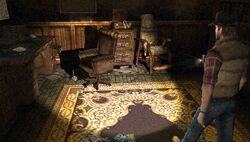 Travis can find many degradable weapons. However, if these break and Travis has no weapons on his person, he is forced to use his fists. At the start of the game, this is a good idea, as stock-piling weapons early on will mean there will plenty later in the game. Most enemies encountered early on in Travis' adventure can be defeated with relative ease without weaponry, although it should be noted that doing so depletes his stamina.
Silent Hill: Downpour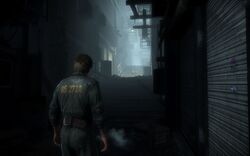 Murphy Pendleton can find many different weapons throughout his journey in Silent Hill, but all of them will break after some time. As Murphy can only have what he can hold in his hands, the likelihood of Murphy having to fight bare handed is much greater than in Origins. Murphy is not an excellent fighter and as a result, his punches will do little against the monsters he will inevitably face, however the ability is still quite useful and altogether necessary for the system to function. Murphy does not have stamina, so he can punch indefinitely, though it is best utilized in order to simply stun enemies and run away, or look for a weapon to defend himself with.
Silent Hill: Book of Memories
The player can fight with their fists whenever a weapon breaks, although naturally the damage output of doing so is far less than using any proper melee weapon. As a result, the use of such is best left to emergency situations only.
Community content is available under
CC-BY-SA
unless otherwise noted.