New Pokemon Games - The Loop
Play Sound
Happy Burger is a fast food outlet featured in Silent Hill 2, Silent Hill 3, and Silent Hill: Revelation.
Silent Hill 2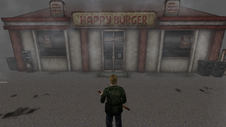 In Silent Hill 2, the interior of Happy Burger cannot be explored, but it can be seen from the outside. It is located in South Vale, on the corner of Neely St. and Sanders St., south of Neely's Bar.
Silent Hill 3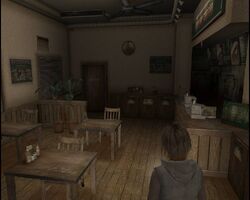 In Silent Hill 3, Heather Mason visits Happy Burger in the Central Square Shopping Center. She accidentally falls asleep inside the restaurant and has a nightmare about Silent Hill, which serves as the game's introduction. After waking up, she exits the restaurant.
In the Otherworld, Heather uses a hanger to climb a ladder to the next floor.
Happy Burger can be revisited after defeating the Split Worm, where a save point is located and a bag of jerky, a health kit, and three rounds of handgun ammunition can be picked up. If Heather examines the table where she was at, she comments on how she wonders if she really is still sleeping there, caught in a dream.
Silent Hill: Revelation
Heather Mason called her father in fear that a man was stalking her, and the two decided to meet there, although this was hindered by other events in the film.
Heather passes through Happy Burger while having a hallucination at the mall. Inside the kitchen, she witnesses a butcher preparing human meat burgers. Horrified, Heather screams and exits Happy Burger.
Trivia
Gallery