See also: Radio, Phone Numbers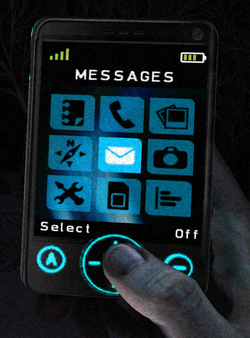 In Silent Hill: Shattered Memories, one of the items Harry Mason has equipped is a phone (similar in design to an iPhone, without the touch screen feature. It also bears a resemblance to the LG Neon).
The phone takes the role of the radio from previous Silent Hill games by emitting static when an enemy is nearby and also has a map. It also has a battery life which reflects the battery life of the Wii Remote.
Features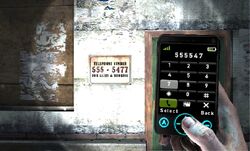 Phone Book (top left)
Harry's contacts are listed here as he receives calls or finds important phone numbers.
Dial (top center)
The player can can use the phone to call any phone number they find in the game.
Gallery (top right)
The player can browse through the photos they have taken with their phone, so long as they are saved upon being taken. He can also delete them, as he can only store a maximum of 10 photos on his phone.
Map (middle left)
A map of Silent Hill, with GPS (Global Positioning System)-like software allowing the player to locate their position. Waypoints can be added, and the player can also draw on the map in whatever way they see fit.
Messages (middle center)
The player can read their received text messages and access his voice mail from here.
Camera (middle right)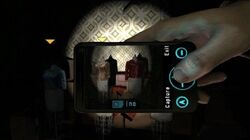 The player can use the phone's camera to uncover secrets by taking photos of their surroundings. Photos might help uncover past events or hidden features.
Settings (bottom left)
The player can alter their phone settings from here. Options available include:
Ring Tone
Speech Volume
Vibrate
Save Game (bottom center)
The player can save their progress at any point in the game using this function.
Logs (bottom right)
This setting allows the player to track their calls. Listed are:
Dialed Calls
Received Calls
Messages Received
Photos Taken
Total Call Time
Gallery
Community content is available under
CC-BY-SA
unless otherwise noted.