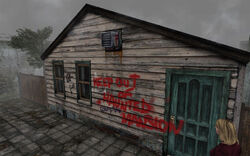 The Haunted Mansion is a warning message that can be found by Maria in the Born from a Wish scenario from Silent Hill 2. The message is found on the wall of the rooftop exit of the Baldwin Mansion on the route to the Blue Creek Apartments. The note likely alludes to Ernest's deceased daughter Amy, whose spirit still appears in the building.
Transcript
"Keep out of Haunted Mansion"
Community content is available under
CC-BY-SA
unless otherwise noted.