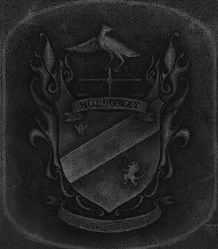 The Holloway Family is one of the four founding families of Shepherd's Glen, whose original founding member was Edith Holloway. They were given the duty of Keeper of Lore and were to sacrifice their children to the noose by suffocation. This is done to maintain the pact held with the Order and their god.
Emblem
"
To continue on the path we have laid before us, it is vital that the people remember the road traveled. We must continually provide, update and nurture accurate records of the past that cannot be challenged by outsiders. Once the lore has been handed over, The Keeper shall confine himself to an uncorrupted sanctuary. There he shall learn the history of The Founders. In God's name, so shall it be.
"
The Holloway's emblem depicts a bird resting on a law scale, which relates to Margaret Holloway's position in town as a judge.
Members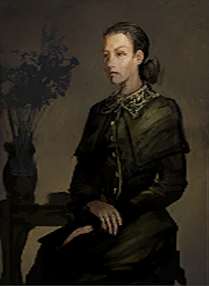 Edwin Holloway (1820 - 1879)
Edith Holloway (???? - ????) (wife of Edwin)
Ann Holloway (???? - 1853) (daughter of Edwin and Edith)
Frederick Holloway (1865 - 1900)
John Holloway (1868 - 1901)
Nancy Holloway (1870 - 1899)
Henry Holloway (1885 - 1892)
Earnest Holloway (???? - 1903)
Robert Holloway (1887 - 1910)
Sophie Holloway (married into family, wife of John) (1889 - 1920)
Karen Holloway (daughter of John and Sophie) (???? - ????+8)
Lawrence Holloway (???? - 1953)
Margaret Holloway (1954 - 2007)
Elle Holloway (daughter of Margaret) (b. 1985)
Nora Holloway (daughter of Margaret) (1992 - 2003)
Trivia
See also