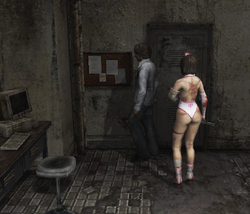 Henry Townshend finds the Hospital Reception Note in the Hospital World pinned to the notice board in the reception room. It has several variants of Eileen Galvin's name spelled with missing letters in different places. After noticing the note Henry says: "What's this note...?"
Transcript
Eile...Galvin...
E...en Galvin
...ileen Galvin
Eilee...Galvin
Eil...en Gal...
...een...lvin
E...n Galvin
Eileen Ga...in
Eileen Gal...n
Eileen...vin
Community content is available under
CC-BY-SA
unless otherwise noted.