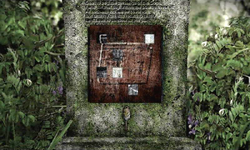 The Inner Garden Tombstone can be found by Maria in the Born from a Wish scenario from Silent Hill 2. The tombstone is located in a hidden garden which can be reached by climbing a ladder, accessible from a open fireplace in the Baldwin Mansion.
The person mentioned in the epitaph is most likely Amy, the daughter of Ernest Baldwin, who is believed to have fallen to her death from the mansion attic ten years prior to the events of Silent Hill 2. More importantly though, the tombstone serves as the Acacia Key Puzzle.
Transcript
"Along with you died joy.

All that remains is despair and a

future of meaningless tomorrows.


But I will never give up.

One, to see your

beautiful smile again.

One, to beg the

blessings of the Gods.

I wait for that day.


When the boards cover all

All sadness too will be covered

But until my dreams

return to reality

I will have to swallow

all the pain."
Community content is available under
CC-BY-SA
unless otherwise noted.