Insane Cancer is an enormous, obese, and monstrous humanoid. These abominations, possessing hulking strength, appear in Silent Hill 3. Heather Mason first encounters one sleeping in Hazel Street Station after she picks up a shotgun in an abandoned train car on the platform 2.
They also appear occasionally in Silent Hill: The Arcade and Silent Hill: Book of Memories. They explode after they are defeated in the latter, making them lethal even in death.
Insane Cancers are also seen in the comics Dying Inside, Paint It Black, and Hunger.
Appearance
The name "Insane Cancer" is derived from its outward appearance being reminiscent of a cancerous mass. They are almost completely covered in fatty, bulbous flesh, with pus-like excretions oozing from open sores. Their heads aren't very distinct, being small bulbs with a wound-like opening as their only feature.
Character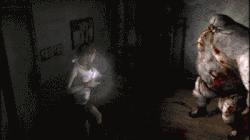 As with the Closer, they often block off portions of the environment with their sheer mass. They attack by swinging their fat, claw-tipped arms and throwing themselves on top of Heather. Although they usually move slowly, shifting their weight back and forth, they will sometimes run towards Heather and knock her down with surprising speed for such a juggernaut. Normally, it's best to avoid these monsters and look for a safe way around them; however, their size may block the path and force the player to fight them.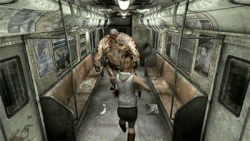 If the player is looking to defeat an Insane Cancer, then knocking over the leviathan with the shotgun and knocking it down is generally the safest choice. Once the Insane Cancer is knocked down, switching to the maul and using the overhead swing on the behemoth is perhaps the quickest and least ammo-consuming way to slay it. If the Insane Cancer rises from the ground, then switch to the shotgun and repeat the process. They are usually found lying down or sleeping, and this is how they regenerate their health; during this time the damage inflicted will be minimal. They will "deflate" after dying, which is the only way to ensure they are truly dead and not merely resting.
Symbolism
The Book of Lost Memories claims it represents a "cancer running wild" and its name stems from its cancerous-like appearance.
Insane Cancers may also represent Silent Hill's very corruption, like an evil cancer spreading throughout the world. They can also represent Alessa Gillespie's re-emergent feelings about herself, that she is a cancer that won't stay dead. These feelings are also reflected in the message left behind by the Memory of Alessa. Their mimicry of dying, when in reality they are regenerating, may be related to Alessa's hospitalization; to everyone (other than her mother, Lisa Garland, and Michael Kaufmann), she was dead, when actually she was alive in the hospital and wanted to die, but was unable to due to Dahlia's incantation and the god in her womb protecting its mother's host body.
There is a running theme of maternity and femininity in Silent Hill 3 and its monsters due to the central conflict of the game centering on impregnation in the cult's attempts to force Heather to birth their god. The Insane Cancer might be a manifestation of the fetal god in Heather's uterus, slowly growing like a disease and coming back after apparently being killed. This is supported by the science of how cancer operates: it is the uncontrollable growth of cells, which can be seen as synonymous in the game as the development of God within Heather, which the Order believes is inevitable. The Insane Cancer could also represent elements of body horror associated with pregnancy, as some mothers fear they will become obese or overweight, bloated, disgusting, and generally unattractive during pregnancy.
Trivia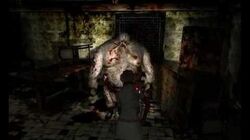 According to Masahiro Ito (who acted as art supervisor for Silent Hill 3), the Insane Cancer is the sole creature designed by Kazuhide Nakazawa, the game's director.[1][2]
While wearing the Princess Heart costume, if Heather fights the Insane Cancer in the Otherworld Hilltop Center (in the room with the pork liver), it will exclaim「お〜い、なあ」(o~i, naa "HEY, now") in dialectal Japanese, with a robotic voice. Heather will say「はいやんか」(hai yan' ka "yes, isn't/doesn't it?")—also in the Kansai dialect—when attacked or killed. If Heather swings the maul, she makes a comical war cry. It is currently unknown if this occurs anywhere else.
The Insane Cancer was inspired by a figure seen in the paintings of Hieronymus Bosch.
The creature's appearance and themes are comparable to those of the nuppeppō, a monster figure in traditional Japanese folklore.
Gallery
Silent Hill 3
Other games and comics
References
Community content is available under
CC-BY-SA
unless otherwise noted.