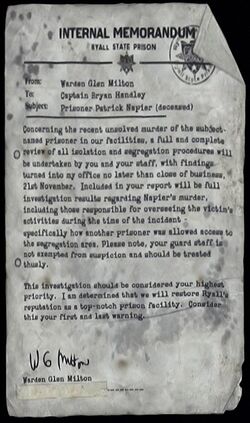 The Internal Memorandum (Napier Report) is an internal prison memo in Silent Hill: Downpour, found on a desk on the first floor of the archives in the Centennial Building. This is a report on the investigation into the deceased prisoner Patrick Napier, the convicted child killer and abuser murdered by Murphy Pendleton as revenge for the murder of his son Charlie.
Transcript
From: Warden Glen Milton
To: Captain Bryan Handley
Subject: Prisoner Patrick Napier (deceased)
Concerning the recent unsolved murder of the subject-named prisoner in our facilities, a full and complete review of all isolation and segregation procedures will be undertaken by you and your staff, with findings turned into my office no later than close of business, 21st November. Included in your report will be full investigation results regarding Napier's murder, including those responsible for overseeing the victim's activities during the time of this incident - specially how another prisoner was allowed access to the segregation area. Please note, your guard staff is not exempted from suspicion and should be treated thusly.
This investigation should be considered your highest priority. I am determined that we will restore Ryall's reputation as a top-notch prison facility. Consider this your first and last warning.
Warden Glen Milton
Community content is available under
CC-BY-SA
unless otherwise noted.