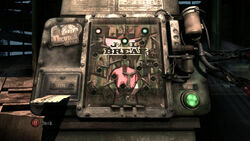 This article is a guide for a Silent Hill: Downpour puzzle.
Jail Break is an arcade game in Silent Hill: Downpour. To complete it, Murphy Pendleton must first find the game tokens in the Aerial Tram Station. Then, after an Otherworld transition in Devil's Pitstop, Murphy ascends in an escalator and turns a power generator on, turning on the game. This is when Murphy must insert the tokens into the game.
The game changes with difficulty, but the general idea is to drop the balls into the hole that corresponds with its color. This must be done while the water is rising, and there are many other holes that the ball can fall through. This is a main story puzzle and must be completed in order to continue further in the game. Upon completion, Murphy will yell out "yes" triumphantly and receive tickets to the sky-tram. While not really a "puzzle" as such, it is still a challenge that must be completed.
Trivia
Jail Break was a 1985 arcade game by Konami.
No clue is ever given as to why the game machine was removed from the Tram Station, although considering where it is housed (a workshop), one could deduce that the prior residents of the Devil's Pitstop attempted to break into it in order to get free tram tickets.
Gallery