Jimmy Stone was a priest in the Valtiel Sect, a division of the Order. He was nicknamed "The Red Devil" by members of the Order in reference to the triangular red hood he wore during ritualistic executions, much like Pyramid Head of Silent Hill 2 fame.
Walter Sullivan shot him in the back of the head inside the Wish House Orphanage and removed his heart. Jimmy Stone is known as Victim 1 in the game, and his ghost is encountered frequently. As with every victim in the game, Jimmy left an item behind that acts as a piece of his memory in Walter's Otherworlds, which is a shred of scripture found in the area he was murdered.
Silent Hill 4: The Room
In the beginning of the game, when the player is controlling Joseph Schreiber, the segment ends with Jimmy Stone entering Room 302 through the wall and crawling towards Joseph, causing him to groan in agony and collapse to the ground. It is theorized that this is actually the demise of Joseph, who was killed by Jimmy.
Jimmy is also one of the hauntings to appear in Room 302. He comes out of the wall and keeps looking at the room he is in. He appears in the living room, bedroom, bathroom, and the laundry room. Oddly enough, he can be still encountered as a haunting even if he was pinned down with a Sword of Obedience.
In Walter's Otherworlds, Jimmy appears in Subway World, in Apartment World, in Subway World (2nd Time), in Forest World (2nd Time) and in Apartment World (2nd Time).
Trivia
Gallery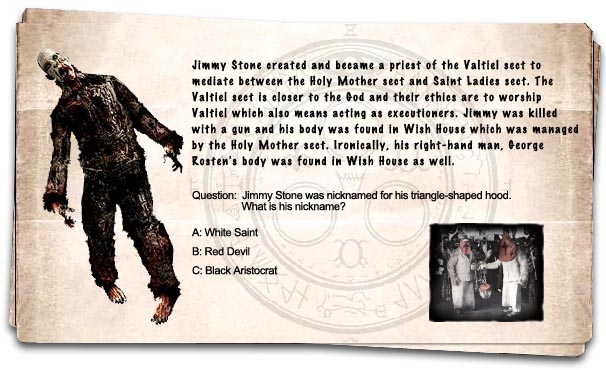 Community content is available under
CC-BY-SA
unless otherwise noted.