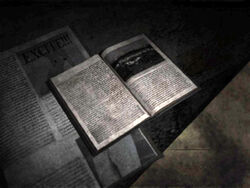 Joseph's Article is a memo item found in Silent Hill 3 and Silent Hill 4: The Room. It was written by reporter Joseph Schreiber and details his investigation of the Wish House Orphanage and the cult that operates it. Schreiber's meddling ultimately results in his death a few years prior to the events of the game.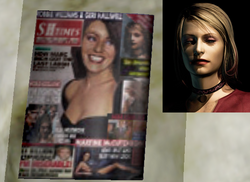 Joseph's article previously appears laid out in Room S1 in Brookhaven Hospital in Silent Hill 3, encountered by Heather Mason. The article is nearly identical, but for the renaming of "Hope House" into "Wish House" and other minor changes. Along with the news reports about Walter Sullivan found by James Sunderland in Silent Hill 2, the article is one of the major links between Silent Hill 4 and the rest of the franchise.
Transcript
Silent Hill 3
"Teaching Despair: 'Hope House'
'Hope House', an orphanage on
the outskirts of Silent Hill. But
behind its false image is a place
where children are kidnapped
and brainwashed.
Hope House is managed by the
'Silent Hill Smile Support Society',
a charity organization sometimes
called '4S'.
It's true that 4S is a well-respected
charity that 'takes in poor children
without homes and raises them with
hope'.
But at its heart, it is a heathen
organization that teaches its own
warped dogma in lieu of good
religious values.
Mr. Smith (temp), who lives near
'Hope House', had this to say:
'Sometimes at night I can hear their
weird prayers and the sounds of
[children] crying. I went there to
complain one time, but they ran me
right out. Since then, it hasn't changed
a bit.'
In fact, this reporter was refused
admission when he attempted to
take photographs in the facility.
What exactly do the folks at
'Hope House' have to hide?
During my investigations, I was
able to discover, however, a
suspicious-looking round concrete
tower which appears to be part of
their facilities.
Unfortunately no one was willing
to tell us what the tower was used
for. But it seems unlikely that it has
anything to do with the business of
raising orphans. It may in fact be a
prison, or a secret place of worship.
The cult religion that operates
'Hope House' is known by the
locals simply as 'The Order'.
It's a religion that is deeply interwoven
with Silent Hill's history.
But its worshippers' fervent belief
that they are among the elite 'chosen
people' has a dark and dangerous side.
I intend to continue my
investigation of 'Hope House'
and the cult behind it.
I've always believed that 'telling
the whole truth' and showing the
children the true path is our most
important duty.
—Joseph Schreiber"
Silent Hill 4
"Wish House," an orphanage on the outskirts of Silent Hill. But
behind its false image is a place where children are kidnapped
and brainwashed.

Wish House is managed by the "Silent Hill Smile Support Society,"
a charity organization sometimes called "4S."
It's true that 4S is a well-respected charity that "takes in poor children
without homes and raises them with hope."

But at its heart, it is a heathen organization that teaches its own
warped dogma in lieu of good religious values.

Mr. Smith (temp), who lives near "Wish House," had this to say:
"Sometimes at night I can hear their weird prayers and the sounds of
[children] crying. I went there to complain one time, but they ran me
right out. Since then, it hasn't changed a bit."

In fact, this reporter was refused admission when he attempted to
take photographs in the facility. What exactly do the folks at
"Wish House" have to hide?

During my investigations, I was able to discover, however, a
suspicious-looking round concrete tower which appears to be part of
their facilities.

Unfortunately no one was willing to tell us what the tower was used
for. But it seems unlikely that it has anything to do with the business of
raising orphans. It may in fact be a prison, or a secret place of worship.

The cult religion that operates "Wish House" is known by the
locals simply as "The Order."

It's a religion that is deeply interwoven with Silent Hill's history.
But its worshipers' fervent belief that they are among the elite "chosen
people" has a dark and dangerous side.

I intend to continue my investigation of "Wish House"
and the cult behind it. I've always believed that "telling
the whole truth" and showing the children the true path, is our most
important duty.

—Joseph Schreiber