"
I am the key... Find me, and everything changes...

—Joshua, in one of the game's trailers.


"
Joshua "Josh" Shepherd is Alex Shepherd's younger brother in Silent Hill: Homecoming and only sense of stability after what has happened to his mother and father. When Alex returns to Shepherd's Glen, Joshua is missing, leaving Alex to find him, hoping not to lose the one last thing he cherishes.
Biography
Joshua was born to Lillian and Adam Shepherd, members of the Shepherd family. After his birth, Joshua's parents started to transfer their affection to him, leaving little to no remaining affection for Alex. Alex notes that his mother would spend a good amount of time sitting in her room and rocking baby Joshua by the window.
Despite the partial favoritism of his parents and the age difference, it is implied that Joshua and Alex got along rather well; however, their differential treatment eventually affects both of them, Joshua feeling more guilt, and Alex, resentment. Joshua accepts the treatment and orders given to him and remains the center of attention in the family, as well as befriends the other children of Shepherd's Glen. His best friend was Joey Bartlett.
Born into a military family, Joshua developed a love for things relating to the U.S. army, notably toys and posters. He enjoys tree houses, playgrounds, and fishing. Like Cheryl Mason and Alessa Gillespie, he has a fondness for insects, and has a collection of beetles, centipedes, and butterflies; Alex comments that Joshua has a particular fascination for spiders, though he is unaware as to how his younger brother developed this interest. Joshua is also shown to have an artistic side, displayed by the many drawings and photos that Alex can find throughout the game. He also enjoyed comic books, very much like his older brother.
Silent Hill: Homecoming
Joshua plays a key figure as Alex's main focus for the majority of the game. Although Alex does find him in various locations, he is constantly running away from Alex, forcing him to give chase and find out what exactly has happened in Shepherd's Glen. At other times, Joshua is seen silently watching Alex from a distance. Joshua also leaves behind various clues in the form of photos and drawings, scattered throughout the game and usually hidden in some way.
Nearing the end of the game, as nothing is revealed of Joshua's status previously, Alex learns that he has been deceased the entire time. The figure of Joshua that Alex constantly chases is actually a manifestation of the guilt Alex feels and his repressed memories beginning to surface. With the exception of Elle Holloway, no other character mentions Joshua's status or answers Alex's inquiries about where he is, and Lillian simply states that she misses him.
Joshua's death was the main plot driver in the game, but it isn't revealed how he died until the end. The curse that befalls Shepherd's Glen began when Alex inadvertently causes Joshua's death by knocking him out of a boat, drowning him, as he was not meant to be sacrificed like Alex, which results in the pact being broken. From the shock of his death, Alex enters a state of denial and is later institutionalized for becoming mentally unstable. Upon realizing all this Alex faces Amnion, the manifestation of Joshua's spirit and death, and finally makes amends for what he has done.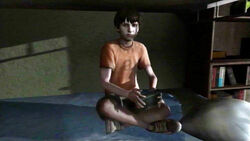 If the player achieves the Good ending and has collected all the Polaroid photos in the game or completes the game on Hard difficulty, a special scene will play. In first-person view, Alex enters his house and sees wet footprints leading up the stairs. He follows these into his and his brother's bedroom. Inside, he finds a wet Joshua sitting on his bed with a camera, who snaps a picture of him and laughs. The picture that emerges from the camera is the one of Alex found earlier in the game.
If the player achieves the "Drowning" ending, Alex awakens to find himself lying in his bathroom tub. Adam then walks over to him, and tells Alex that "Joshua will be safe to carry on the family name". What Adam means by this is left open to interpretation, and Joshua may or may not still be alive in this particular ending.
Quotes
"I'm a brave soldier."
"Someone brought me here. They told me Robbie was here... They lied."
"I guess you're not my friend."
"I... I had a bad dream. Never mind, it's nothing..."
"Is it worth more than a million dollars?"
"What are we doing here, Alex? Dad'll freak if he finds out."
"Oh no, I'm cool... It's just... Dad never lets us out on the lake."
"It's Dad's ring. He told me not to show you so I guess that makes me cooler."
"It's worth more than a million dollars, that's why Dad gave it to me! Give that back! Give it back! It's mine!"
"Smile!" (in the bonus scene)
Trivia
Joshua was originally portrayed as having dead, rotting skin, but the idea was later thrown aside. However, in the church, the player may find a photograph of Joshua taken by himself in front of a mirror. Although not much can be seen in said picture, the Joshua that is visible appears to be the concept art of his corpse emerged from the water, suggesting that he took this picture after his death.
If Alex examines the exterior of Olson's Hardware Store, Alex will comment on how Joshua once stole gum from the shop. Alex also explains how he was lectured by his father for "allowing his little brother to shoplift", and both were grounded.
Early in the game's development, a rejected script of the game involved a Super Saiyan-like battle between Joshua and Alessa Gillespie over Toluca Lake, with Alessa representing fire and Joshua representing water. Tomm Hulett had the script removed from the final version. According to Tomm, he wouldn't say Joshua is "alive" in the bonus scene, but he's "still around" (possibly as a manifestation, ghost, or spirit).
See also
Gallery